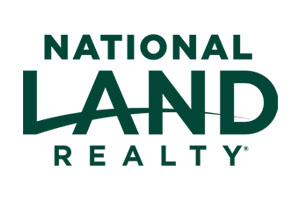 Kati Hourihan joined the National Land Realty team in June 2021. Kati has several years of experience in real estate, including residential, development, commercial, agricultural, and recreational tracts of land. Before joining the NLR team, she previously worked in real estate sales with RE/MAX and Berkshire Hathaway HomeServices Worldwide. She also previously worked for the Hanover Company for five years in real estate acquisition, development, and management.
In 2020, Kati was named a Berkshire Hathaway HomeServices Worldwide, Realtors Top Ten Agent and received the Berkshire Hathaway HomeServices Leading Edge Society Award. She was also recognized as the best real estate agent and top producer from 2016-2019 by 360 West Magazine, D Magazine, and voted as a top realtor by Fort Worth Magazine for 2017-2018.
Kati is an active member and partner for the Northwest Metroport Chamber of Commerce and is a certified military relocation professional. She received a bachelor's degree from Texas Tech University and currently resides in Dallas-Fort Worth, Texas, with her golden retriever, Blanche. When she is not working, Kati enjoys traveling, being outdoors, and meeting new people.
5 STAR ALL THE WAY!!! This was mine and my husband's first home. We were limited to a budget that could be tricky for exactly what we wanted in our home. So, we were nervous going into this process. Kati met with us immediately, reviewed the process, and provided us helpful information as to what was to come. We knew then we were in great hands. We were looking in the McKinney, Allen, Plano areas, and Kati lives in Ft. Worth. We were worried that might be too far to show us homes ASAP when needed. But, that was no problem at all for Kati to be available to us when we needed her to show us a home. When we called, she always answered and reacted promptly to our requests. Kati consistently followed up with us, and notified us when a home hit the market that fit our wants and needs. When we finally found the one, Kati went in fighting for us to get us this house, and Kati won!! Kati knew what needed to be presented to the seller to help entice our offer. Kati made this experience a seamless one from start to finish. Kati guided us the whole way, and made us feel comfortable and at ease during a really stressful process. Kati really cares about her clients, and you feel that when working with her to find your perfect home. You may go in a client, but you leave as friends. I highly recommend Kati to help find your next home. I share my experience often, and refer clients to her as much as possible.
– Michelle B. (July 29, 2021)
Kati was recommended to us by our daughter-in-law. We made the choice to move back to the DFW area after being gone for 20 years. Coming back from the Las Vegas area - we had no idea exactly what we were looking for, or where we were focused on. Can't imagine going through this process with any other agent. Kati was fantastic in working all over the metroplex with us. From Mansfield, to mid-cities, to North Texas, her patience and expertise were outstanding. We weeded through many areas, homes, neighborhoods, and ending up building a custom home in an area that we never would have found without her help. The perfect location, builder, lot, etc. Kati is a true professional that cares about her clients and their needs. Great realtor and an amazing person - can't say enough about her skill set as a realtor. Always positive, goes the extra mile, and does whatever it takes to take care of her client. Persistent, detailed, motivated, strives for excellence. A pleasure to do business with! Our best buying experience ever!!
– Debbie K. (July 29, 2021)
Kati was amazing to work with on my home purchase!! She was professional, knowledgeable and more than helpful! She caught things that I maybe would have overlooked & always had my best interest at heart. I highly recommend working with her!
– Melinda P. (July 29, 2021)
My wife and I worked with Kati to sell our home in Southlake. Our entire experience was easy, seamless and truly enjoyable! Kati was extremely knowledgeable, very responsive and an excellent advocate throughout the entire process. I firmly believe that our home sold so quickly (and for a great price!) due to Kati's hard work and guidance. We highly recommend using Kati for your real estate needs. Thank you, Kati!
– Kyle G. (July 29, 2021)
Kati was our realtor for our first-time home purchase, but now I consider her a friend of the family! We are a family of seven and had several stipulations in the criteria for our purchase. Kati got to know us, our preferences and pet peeves, and catered to our desires. She worked with our strange schedules and helped us to find the home we truly wanted! She walked us through each step and made it super easy and clear for us! Never once did we feel pressured to buy something we didn't like! She's amazing, and I highly recommend her to anyone wanting to rent or move forward with buying!! Five stars to Kati! She deserves it!!! Kati, thank you for being an excellent real estate agent and a wonderful person!!!
– Kiki 4. (July 29, 2021)
Kati helped my husband and I purchase our first home. We saw DOZENS of houses and she made the process so painless and fun! We have recommended her to everyone who will listen. She is now about to help us list our house and I can't wait to have the chance to work with her again.
– Brianna R. (July 29, 2021)
I had the pleasure of working with Kati Hourihan while buying my first home. I would receive an answer within minutes, at any hour of the day. Everything was taken care of for me to make the difficult process of buying a home simple and easy. Thanks again for everything!
– Tanner W. (July 29, 2021)
My husband and I worked with Kati purchasing our first home and she made it so easy and painless. Kati is incredibly knowledgeable and made sure we had all the info we needed from start to finish which was great because we were pretty lost besides knowing we wanted to buy. She is quick to respond to any questions and extremely generous with her time. Negotiating with the seller went back and forth a couple times but she helped us create an offer that we were happy with and overall things were so smooth we could close in just over three weeks. Kati is sharp, has a great eye, and is wonderful to work with. We would not hesitate at all to recommend her to anyone looking to buy and we would work with her and her team again in a heart beat.
– Cat . (July 29, 2021)
Land by State
Land Professionals by State