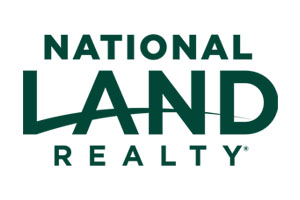 James "Jay" Cassels joined the National Land Realty team in April 2021 and is currently a broker associate out of the McAlester Oklahoma Branch Office! Jay has been developing, marketing, and selling turn-key hunting properties since 2012 and serves as the only land certification inspector in the state of Oklahoma for the National Deer Association (NDA). He currently owns and manages a Legacy designated, highest certified, property for quality deer management by the NDA and served as a Green Beret, for 8 years, in the United States Army Special Forces. As an avid outdoors man, Jay's unique expertise and personal experience will deliver guidance and service that is second to none whether you are in the market to buy or sell!
Jay received a bachelor's degree in management information systems from Lamar University and a master's degree in telecommunications management from Oklahoma State University. Jay is actively involved in the National Deer Association as a lifetime member, land certification inspector, certified deer steward I and II, legacy designated property owner, and president of the Eastern Oklahoma branch. Jay is also a life member of the Veterans of Foreign Wars Post 8789, a distributor for Texas Hunters Products, and an Accredited Land Consultant from the Realtors Land Institute. Jay currently resides in Checotah Oklahoma. When he is not working, Jay enjoys hunting, managing his own property, and spending time with family.
Jay Cassels is the real deal. I have now bought 2 different tracts of land in Oklahoma through him, and we couldn't be more satisfied with the process from beginning to end. Appreciate everything!
– Beau M. (September 14, 2023)
I had a fantastic experience on a real estate deal with National Land Realty agent Jay Cassels. His knowledge and experience helped close a very complicated multi-faceted transaction that included 1031 exchanges as well as some non standard financing. His communication and attention to detail helped get us to the goal line of the closing. I would highly recommend Jay as a representative agent in any real estate deals but in particular his expertise in hunting properties.
– Tim K. (August 01, 2023)
I have dreamed of buying hunting/vacation property for 35 years. From the moment we saw the listing we knew this was the right one for us. Jay Cassels built this property up and he was so knowledgeable about Real Estate and Whitetails which was the perfect combination for us. He communicated with us through out and was creative in getting the deal done. I would be fortunate to work with him in the future.
– Michael A. (July 14, 2023)
– Bryan S. (May 09, 2023)
Jay Cassels was the utmost professional in the selling of my land. He kept me updated on the progress and handled every contingency in a timely manner. He was available for any questions I had. I would highly recommend Jay Cassels for any of your real estate needs.
– Donald J. (April 22, 2023)
– Brady B. (April 11, 2023)
Jay did an awesome job with every aspect of the buying and selling of this property. I really enjoyed working with Jay on this property. Looking forward to the next property.
– Bryan S. (March 20, 2023)
Jay is a great guy to work with. Just got done getting my third property with him and he has been exceptional each time!
– Hunter S. (February 02, 2023)
I have now bought two properties and sold another with Jay Cassels. His communication is top notch! I've never had another realtor work so quickly and keep me informed the way he does throughout the transaction. And he continues to provide service even after the closing process is complete! I highly recommend Jay if you're looking to buy/sell land in Oklahoma!
– Jarred T. (January 25, 2023)
Jay did a great job on selling the ranch. He kept me informed and made the process very simple. He certainly has his heart into this. Great job Jay!
– John H. (December 06, 2022)
Jay Cassels helped my wife and I find our perfect recreational property! Jay took the time to listen to what we were looking for in a property and found us a perfect place. Jay's knowledge in the rural real estate business in Oklahoma is second to none. Jay continues to follow up with us several times a year to make sure everything is going well, and to see if we need anything. If you're looking for a realtor that truly has your best interests in mind Jay Cassels is your guy!
– Ryan F. (November 08, 2022)
I was looking to purchase land in South Eastern Oklahoma. I contacted a few realtors. After talking to Jay Cassels he seemed very knowledgeable of the Oklahoma land market. Jay assured me he could find me what I was looking for. We stayed in correspondence for a couple months until I was ready to purchase. I met up with Jay, and he showed me several properties that I picked to look at. After talking all day he asked to show me one more property he thought I would be interested in. He was absolutely right. I purchased the property. Jay was pleasant to deal with, easy to get a hold of, and true to his word. I've dealt with realtors in several states, and Jay Cassels is on a level of his own knowing about 1031c exchanges and very well connected. He kept me informed, helped me every step of the way, and made closing a breeze. Jay is my guy in Oklahoma!
– Brandon F. (October 13, 2022)
Jay did an excellent job on everything involved in the sell of the property! Looking forward to the next transaction!
– Bryan S. (August 08, 2022)
My experience with National Land Realty was incredible. We worked with Jay Cassels and his team at the McAlester office. Not only did he exceed my expectations, but restored my faith in the profession as well! From the initial visit where Jay took the time to get to know us and fully understand our needs to walking our target properties, Jay treated us like family. Jay's training and experience in whitetail habitat management combined with the unmatched resources of National Land Realty resulted in us finding our dream property. I am convinced that if we had chosen a different realtor our dream of land ownership would have remained just that, a dream. If you want the best, go with Jay at National Land!
– Sean L. (August 01, 2022)
Jay found us exactly what we was looking for, made process easy, responded quickly, patient, never felt rushed/ burdened at looking property, highly recommend JAY.
– Charles R. (July 30, 2022)
Jay was very helpful to my parents in selling some of their property; he was very respectful, kind, and easy to get in contact with at anytime that they might have questions. I would highly recommend him to any of my friends and family. Thank you Jay for all your help with my parents!
– Dana H. (July 23, 2022)
Jay is the most patient guy ever! HIGHLY RECOMMEND. Made the process easy.
– Michelle D. (July 18, 2022)
I've worked with Jay on the purchase of 2 properties and each time he has helped me find the perfect properties for my family and I. Very professional. Very responsive to all of my questions. And consistently kept me updated throughout the entire buying process. Wouldn't use any other realtor but Jay.
– Jimmy P. (June 17, 2022)
Jay was very helpful and easy to work with throughout the entire process. His insight to the area and his connections in the community have been an extremely helpful in establishing and developing our land. Jay has an enumerable amount of knowledge about Oklahoma farm and ranch land. Even after closing, Jay has not hesitated to coordinate with contractors or provide valuable insight into the development process.
– Scott H. (May 17, 2022)
We found out about Jay Cassels from a friend who heard that we were in the market for property in Oklahoma. From the very first call through the entire process, Jay was very professional, informative, proficient and communicated extremely well. We felt like Jay was on our team and would definitely recommend him to anyone. Thanks to his assistance, we now own 80 acres in Oklahoma.
Kent & Joan Rhoads
– Kent R. (May 10, 2022)
Showed the land without telling us how great it was just gave us honest feed back on all questions and concerns.
Very honest and was in continuous contact throughout the sale.
– Terry D. (March 24, 2022)
Jay is one of the best I have dealt with in this business. Very knowledgeable in the Oklahoma market. I would recommend him to anyone, and I have!
– Jack M. (March 23, 2022)
Jay Cassels is the real deal. His network runs deep, and his willingness to work 7 days a week made hunting our first land purchase an enjoyable experience. Couldn't have been happier with the process!
– Beau M. (February 15, 2022)
Jay is a man of his word that provides excellent service!
– Dustin T. (January 01, 2022)
Jay was actually a gift from God. He was very professional and knowledgeable in every way. When we had concerns about anything he was always quick to answer our calls and questions.
– Pam J. (December 30, 2021)
Jay Cassels really took care of us in our land transaction . Guided us with competence through the process and answered all our questions. What was more important and helpful was that he prepared us every step in advance! We highly recommend him as a realtor!!

– Stefania C. (December 12, 2021)
I hired Jay Cassels from National Land Realty to sell a very unique piece of property that myself and my family had. It was very client specific. Jay walked me through the process and gave me his feedback about how he would proceed to market the property. Within a very short time, he found a buyer. There were some hiccups when we went under contract that were no fault of Jay's, whatsoever. Jay navigated those hiccups like a pro and kept us informed at all times. He took something that should have fallen through and did the impossible and made it happen. If I ever need to sell or buy land in OK again, rest assured I will be using Jay hands down. If you are looking to buy or sell land in OK, do not hesitate to give him a shout.

– Shawn S. (December 06, 2021)
The entire process went extremely well!
– Bryan S. (November 01, 2021)
If you are looking for the place of your dreams, Jay is the guy that can get it done. Personable, professional and tireless at finding the right match. Highly recommend for top notch service during and more importantly after the transaction.
– Bill P. (October 13, 2021)
Jay was professional, prompt on returns, calls, texts, and updates through the whole process.
– Kent C. (October 08, 2021)
As a lender for farm, ranch, and recreational real estate Jay Cassels is by far one of my favorite real estate agent/brokers to work with. He works closely with every one of his clients to make sure the property they purchase meets all of their needs. Once under contract, Jay is there and makes himself available to both myself and his clients for any questions that may arise along the way and through closing. If I have a loan customer looking for a property in Oklahoma I always refer them to Jay because I know they are in the best and most capable hands. All of Jay's clients have nothing but the best things to say about his knowledge, expertise, and professionalism.
– Alex L. (September 17, 2021)
Jay Cassels was outstanding in helping us with the purchase of our property! His communication is excellent and he made the entire process super easy all while continuing to provide service even after our closing. I highly recommend Jay if you're looking to purchase rural property!
– Jarred T. (August 30, 2021)
Jay Cassels was a huge help when we were looking to purchase some property in Oklahoma. He was very professional and responded very quickly when we had questions. After the purchase, he has continued to assist us with improving and developing our property to meet our needs. We are very happy with the services he has and continues to provide us!

– Cheri M. (August 15, 2021)
Jay Cassels handled the sale of our land like a professional! Great communication, very responsive, knowledgeable, and was helpful in every step of the process. Will be contacting him for our next purchase and sale!
– Brandon L. (July 23, 2021)
I have worked with Jay Cassels on multiple endeavors involving land acquisition and selling. He has always been very knowledgeable and professional from the first phone call to the handshake at closing. With me being in Texas, I have really appreciated his insight and attention to detail on the southeastern Oklahoma properties that he has brought to the table, and by him knowing what I like and dislike in a property, takes all of the frustrations out of purchasing land.
– Michael E. (July 06, 2021)
My wife and I have been following Jay Cassels for several years, watching him turn dreams of land ownership into reality for one happy customer after another. When it was our turn to buy we knew that there was only one person we needed to talk to. Jay exceeded our expectations at every turn and we contracted on the very first property we toured with him. Jay's services are unmatched and we recommend him to anyone and everyone we meet!
– Randall L. (June 28, 2021)
Professional, diligent, and knowledgeable are what come to mind when working with Jay. He is very quick to respond to any calls or inquiries and his knowledge of wildlife management is second to none. All of my land transactions, whether buying or selling, have been smooth and flawless with Jay in my corner.
I highly recommend Jay Cassels at National Land Realty for any of your land transaction needs!
– Kevin C. (June 21, 2021)
Jay Cassels helped my family find exactly the property we were looking for in Oklahoma. His real estate and land management experience helped us refine our requirements and find the perfect matching property. He was always willing to go the extra mile to make sure we were comfortable with price, location, negotiations, scheduling, showing my wife and kids around the property in his side-by-side, etc. He even visited a neighbor and spoke to the water company to make sure we wouldn't have any issue extending city water to our property after the purchase. I think the best part of working with Jay was knowing he had our best interest in mind throughout the entire process and he treated us like family. I've recommended him to many friends because you're not going to find a better person to have in your corner if you're buying or selling Oklahoma land. Thanks a ton Jay!
– Brandon S. (June 16, 2021)
I recently closed on my dream property. A beautiful 270 acres of rolling timber, pasture, and a clear creek in SE OK. The wife and I really enjoy the place. Jay Cassels really walked us through the whole buying process from start to finish. I gave him our criteria and he found us the perfect place to hang out and to hunt. Thanks!
– Derrell M. (June 10, 2021)
Overall, I had an awesome experience working with Jay Cassels. Any obstacles or hoops that came up during the process, Jay was more than willing and able to jump over, through, or smash them down to make the land purchase a successful one. You couldn't find a better person to help with a potential land purchase.
– Kyle M. (May 30, 2021)
Had an excellent experience working with Jay Cassels. Jay helped us find and purchase the ranch of our dreams. Very professional. Responded immediately to any questions we had during the process of finding the property and walked us through the entire purchase process. Even after the purchase of the property was complete Jay still reaches out to offer help with anything we need for our new property. Couldn't ask for a better person to work with when making your first land purchase. Will definitely be calling Jay in the future to help with our next purchase. Highly recommend giving Jay a call!
– Jimmy P. (May 24, 2021)
Jay provided excellent service in both the sale and purchase of my land. He is an experienced agent, outdoors-man, and land steward. His advice and assistance with issues during the process of buying and selling land was invaluable. Jay's knowledge of the outdoors and his experience in land management helped to find the right place for me, with which I could not be happier. We started from scratch and Jay took care of installing water, power supplies, road networks, and the construction of a new barn/workshop. I had a great experience with Jay working through the design and implementation of the property and learned a great deal along the way. Thanks Jay for being honest, open, and flexible!
– Jeremy G. (May 20, 2021)
Jay is a straight shooter and will give you the advice you need. He helped me throughout the entire process. Even after the closing Jay is quick to pick up the phone and happy to help you anyway he can.
– Hunter S. (May 13, 2021)
Jay helped my wife and I find our perfect recreational hunting property. Without his knowledge of the area, expertise in whitetail deer habitat, and passion for the outdoors we truly would have never found our dream property. His vision of what we could accomplish, guidance through the entire process, and willingness to go the extra mile will always be appreciated. Jay will always be welcome at the Hunt Ranch!
– Micah H. (May 03, 2021)
Land by State
Land Professionals by State