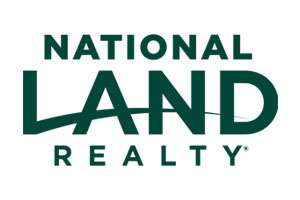 Dustin Weems joined National Land Realty in 2018. Dustin brings 12 years of real estate experience in land sales to NLR, working previously with Bonsal Estate and Weems Real Estate in Mabank, TX. His areas of expertise include farm, ranch and recreational properties, as well as ranch and wildlife management plans. Dustin also holds a degree from Texas A&M University in rangeland ecology and ranch management. His experience and knowledge of the real estate market allow him to match each client with a property that fits their needs. 
Dustin and his family live on their ranch near Eustace, TX. Dustin enjoys spending time outdoors, ranching, and hunting, but on the weekends, you can find him with his wife, Amanda, and their two children, Maci and Hayden, at a livestock show somewhere or cheering on the Texas A&M Aggies during football season. 
Would have never got it closed if my agent had not gone the "extra mile". He was fantastic!
– James W. (July 20, 2021)
– Troy T. (March 26, 2021)
– Ryan P. (September 23, 2020)
– Miriam T. (August 06, 2020)
Excellent advocate for us, as the seller. Very knowledgeable and great marketing.
– Robin N. (July 24, 2020)
Great! All the way around.
– Jerrell S. (June 09, 2020)
Communication was key for me. He answered all our questions and listened to our concerns. He was very professional and very easy to work with.
– Pattie L. (June 05, 2020)
Dustin was fabulous to work with. Extremely knowledgeable, answered all our questions and took care of everything. Bought some property from him and couldn't be happier. Great experience.
– Larry B. (July 15, 2019)
I and my siblings in the past and present used Dustin Weems of National Land Realty, to sell inherited land. Dustin led us through the process with little or no confusion as to how to progress.
We have in a little less than a year finalized 2 out of the 3 pieces of property with no doubt that it is just a matter of time before the last of it is gone.
Highly recommend Dustin as a person to work with.
(June 25, 2019)
– Carlton C. (May 09, 2019)
Dustin Weems was great to work with on the purchase of our Ranch. He answered all of our questions and was very informative.
Thank you Dustin!
– Mindy L. (April 29, 2019)
Dustin was Fantastic when purchasing our property, and the relationship didn't end there! Dustin has helped my wife and I find the right folks to help get our homestead exactly the way we want it. Dustin isn't just a realtor. . . He is a friend helping you to find the right property. Thanks so much Dustin! ! !
– John P. (April 23, 2019)
We have bought and sold properties with National Land Realty. Dustin is great to work with and the whole process went very smooth.
– Brook S. (April 23, 2019)
Dustin Weems made short work of both our sale and purchase. Walk in the park...
– Zach H. (April 22, 2019)
Great service.
– Carole W. (October 22, 2018)
– Carole W. (October 03, 2018)
Dustin is highly knowledgeable and knows his properties inside and out. We have bought and sold land with him and was able to advice us on the property, taxes, cost and profit. He worked hard to ensure we got a great deal, both buying and selling. Looking forward to working with him again.
– Brook S. (September 18, 2018)
– mouzon d. (August 29, 2018)
Dustin Weems was very professional, yet was very personable when providing assistance with the purchase of this land. Dustin was very helpful during the closing of the property. I usually don't like to deal with car dealers or realtors, but Dustin was a breath of fresh air. He was very helpful and pleasant to deal with. Thanks so much! ! !
– john p. (July 20, 2018)
Land by State
Land Professionals by State