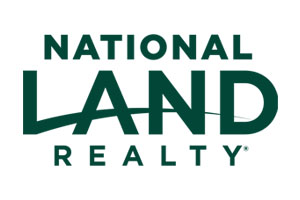 Codi joined National Land Realty in 2017. She was born and raised in Kosciusko and is a member of the local and national REALTORS organization, as well as the Mississippi Commercial Association of REALTORS. She has a decade of real estate experience and is a graduate of Mississippi State University with a bachelor's degree in accounting. 
Codi lives in Kosciusko with her dogs, Oliver, Rosie, and Rupert and cat, Ted. When she's not helping clients find the right property that fits their wants and needs, Codi enjoys cooking.
Codi was wonderful during the entire selling process! She answered all of our questions and took care of everything for us.
– Stephanie M. (November 07, 2023)
Very friendly, knowledgeable and accommodating. One of the nicest people I've ever met.
– Kandi D. (July 27, 2023)
– Bill M. (June 29, 2023)
My agent went above and beyond what most realtors I've been in contact with, from looking for new sites, to get more details on properties and responding quickly.
– Charles L. (July 05, 2021)
Codi the realtor. How many times can I say what an amazing gift that she was. She helped me go through my experience with no hassles and ease my concerns whenever I had them. There were a few hiccups, and she handled them like a pro. If I ever sell my house or decide to buy another one, she is the person that I'm coming to visit. She was also a part of my niece's house buy. Nothing but good things to say about her also. If Codi is anything to judge by, National Land Realty is where you should go for courteous and professional help.
– Jamie B. (April 22, 2021)
Everything from start to finish! She acted as if she had known us forever and treated us like family! We trusted her fully in representing us in this purchase. She took care of every little detail as well as tackling the major duties that come with buying a home. I would highly recommend this agent to anyone looking to purchase a home, whether you are a first time home buyer or are buying your fifth home. Great company! Great agent!
– James J. (March 27, 2021)
Very satisfied with everything and were made to feel that they cared about our purchase.
– James H. (November 23, 2020)
I would highly recommend National Land Reality/Kosciusko, MS to anyone in the market to purchase both Commercial/Residential Property. Codi McLellan, was our Agent and her services were indeed above average! Ms. McLellan was professional, courteous and extremely knowledgeable about the process. She kept our Organization well informed about the process and was available to answer any and all questions that we may have had. Having a Agent definitely makes the difference, contact Codi for all of your Real Estate buying/selling needs!
– Deaundray G. (November 10, 2020)
Codi McLellan, of Kosciusko, was my realtor last year. I had had my house with another realtor prior to Codi, but he wasn't doing his job, so as soon as my contract ended with him, I went to Codi and she listed my home for me. I had been advised from a friend of a friend that if I wanted my home to sell, go to Codi. They were right. I couldn't have picked a better realtor than her. She went over the call of duty to help me. Since I had moved from Kosciusko, she even helped on some upkeep I had to have completed before my house could sell. She is the very best realtor ever and always kept me updated and always returned my calls if with a client. With Codi Cheek being a very motivated, Christian young lady, I could relax and she would sell my home. I was right. If anyone can sell a home, it is Codi!!! She is the best!!!
– Elsie I. (August 18, 2020)
Codi helped my family find our house and we love it. I couldn't have asked for a better experience.
– James J. (August 18, 2020)
Codi made buying our very first home such a pleasant experience! We knew absolutely nothing about buying a house and Codi helped us with every step along the way! It was a long and drawn out process (not due to National Land) and she stayed on top of everything and made sure we knew exactly what we needed to know. She was always available and never missed a phone call or text message. I would recommend her to ANYONE buying a house in this area!! We could not have picked a better realtor or company!!
– Lauren L. (August 18, 2020)
Ms. McLellan was available morning, day, and night to answer our questions and help us make decisions on certain things. She would answer a phone call or a text at virtually anytime, and if she couldn't she'd get back to me within a half hour. It was very clear early on that Ms. McLellan was familiar with the area and had extensive knowledge of the whole county. When we received an offer, there was no hesitation or delay and even notified us of when she was expecting one to come in. She made the selling process exciting. We were so pleased with her and her efforts to sell our home that when she made the move to National Land Realty, we went with her. She was so good before, during, and now after we sold that we took her with us to look at homes for purchase that weren't even listed. We can't say enough good things about Ms. McLellan!
– Michael H. (August 18, 2020)
Codi was wonderful to work with and really made buying our home really easy. From our initial talk on the phone all the way through closing, Codi was always a call or text away should I have questions. I will be recommending all family and friends who are in the market for a home or land to Codi McLellan and National Land Realty!
– Misty B. (August 18, 2020)
I am always impressed by Codi's helpfulness and diligence when I'm interested in a property. She starts investigating right away to provide answers for all the many questions I have (and trust me there are many). She is friendly and welcoming which makes you at ease when working with her. Whether you're buying land or a home Codi makes the process as stress free as possible. This is due to her realty knowledge, helpful attitude, timeliness and problem solving capabilities. I highly recommend this National Land Realty location and Codi McLellan as a realtor.
– Robin P. (August 18, 2020)
The National Land Realty agent, Codi, did a great job always answering my questions and getting to my calls and texts within a reasonable time. She was very patient with me when I was looking for another house to move into when I was selling my house. She took up as much time as I wanted and needed from her without a single complaint. I appreciate everything she did for me.
– Brittany W. (August 18, 2020)
Considering all the roadblocks encountered from the day of listing to day of closing including but not limited to Covid -19, my agent did a good job of navigating through the maze. She was knowledgeable, professional, & very organized.

– Celina W. (August 12, 2020)
– Elizabeth T. (April 14, 2020)
Excellent response time. Addressed all of my concerns and went above and beyond to accommodate a difficult schedule. I was very informed throughout entire process.
– Katreece E. (September 17, 2019)
– Stephanie T. (March 06, 2018)
Land by State
Land Professionals by State