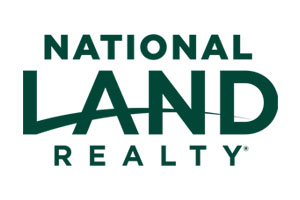 Brandon Wilkins joined National Land Realty in September 2021 with lifelong hunting experience and multiple properties being bought and sold by his family. Brandon's family has sold roughly 1,300 acres of hunting property. He also has experience in the financial field with a Bachelor's Degree in Finance from Southeastern Louisiana University. Brandon is also a Regional Vice President with a financial firm and has been for over 14 years. Because of this he has a unique ability to help his clients navigate their land buying experience.
Outside of work, Brandon is a big family guy. He is married to his high school sweetheart, Jordyn, and together they have two children, Beau and Demi, who are the highlights of his life. Brandon can be found hunting, fishing, and coaching every sport his son plays from football to baseball and even soccer!
Brandon went all out to show us the property that we purchased. From the first day that we looked at the property until the day we purchased it, he kept us informed. He worked closely with us the sellers and everyone else to pull the sell together. He is very knowledgeable of all aspects of real estate process. I would recommend Brandon to anyone looking to buy or sell properties.
– Lee R. (July 17, 2023)
Brandon Wilkins is the man! Anything he could do to help make my buying process easy, he did it. He truly cares about his customers and finding what is best for them. I highly recommend anyone who is in the process of looking for, or looking to sell, to please call him. He will make it happen!
– Dylan Z. (June 07, 2023)
We had hunting land that we wanted to sell and we contacted Brandon Wilkins to handle listing, showing and selling of the land. He immediately came and viewed the property. In a few days he brought buyers to look at the land. Brandon handled everything and the land actually sold for a very attractive amount. To say that I am pleased with Brandon is an understatement. Great guy, honest, straightforward and a true professional describes Brandon to a tee. Highly recommended.
– Louis C. (June 05, 2023)
We have been working with Brandon Wilkins for over 10 months. Brandon showed us a property early on in our land search and although it wasn't the right property for us we knew we found the right realtor for us. Armed with a description of what we were looking for and a handful of target properties that were off the market Brandon went to work. Patience and persistence paid off and Brandon was able to negotiate a purchase agreement on one of our top targets. Brandon has found the perfect vocation for himself. Not only is he excellent at what he does but you can tell he really does enjoy it.
– Nick J. (June 05, 2023)
It was a great experience dealing with Brandon. I had to sell one property to buy another, and Brandon was on top of it throughout the entire process. He was timely with returning emails and phone calls and pushed hard to keep all parties on track for a seamless process. Brandon was always honest and upfront which is a must in this business.
– Eric T. (April 21, 2023)
Great experience dealing with Brandon Wilkins.
– Marcus D. (January 10, 2023)
I appreciated Brandon for being a professional but personable at the same time. He provided timely information and understood the property I purchased through him including history of, estimated timber values, boundaries, neighbors and basic animal inventories taken of past 36 months. It was a pleasure working with him and the contacts he had in order to expedite a quick closing. I'll continue to lean on Brandon and his company for future investments.
– Gene M. (January 10, 2023)
We were very pleased working with Brandon Wilkins. He was professional, responsive, and extremely knowledgeable on LA land sales. We would recommend him highly and would like to work with him in the future.
– Richard M. (October 25, 2022)
Brandon Wilkins marketed and sold our family property in record time. Knowledgeable, professional, accessible and willing to help after the sale. Brandon Wilkins is highly recommended and the go to guy sales agent whether you're buying or selling property.
– Mark G. (August 08, 2022)
– Roger S. (July 11, 2022)
We were very satisfied with Brandon Wilkins. We give him 5 stars!! He was prompt to respond to us and kept tabs on us as well as with the buyers side in order insure us that things were on track . We highly recommend him and wish him great success in the future. Thank you Brandon.
– Beverly S. (July 01, 2022)
We were very satisfied with Brandon Wilkins. We give him 5 stars!! He was prompt to respond to us and kept tabs on us, as well as with the buyers side in order to insure us that things were on track. We highly recommend him and wish him great success in the future. Thank you, Brandon.
– Beverly S. (July 01, 2022)
Brandon was very helpful with buying our land. He brought us to the property and walked us around the land. He gave us several options for lenders who are highly knowledgeable in the market. If we had any questions, he would find out the answer, if he didn't already know. Super cool dude! Highly recommend. We have already gotten one of our close friends in touch with Brandon already so he can help them as well.
– Cynthia H. (June 24, 2022)
I first talked with Brandon Wilkins when we saw the the land for sale in Sibley, MS. We then met him later the same day to sign an agreement and actually met him for the first time. Brandon was very helpful and knowledgeable with everything. Within a month's time from the first meeting we went to closing! I will and would recommend him for your next land purchase! I called and texted him over every little thing and he was always very nice and polite.
– Rita G. (June 24, 2022)
Brandon Wilkins was not only prompt and professional but really knew his stuff regarding the details of the property. He made our purchase a breeze! We highly recommend him to list or sell your property.
– Lauren . (June 24, 2022)
Land by State
Land Professionals by State