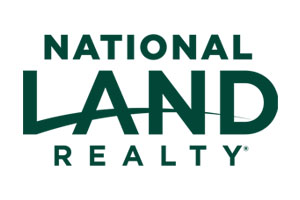 Brad Smith joined National Land Realty in 2018. Brad is an experienced real estate agent, registered forester, and certified prescribed burn manager in Louisiana. For over 10 years, Brad has been a forester at PETERS Forest Resources, a forest management company that currently manages over 100,000 acres of private landowner land in Louisiana and South Mississippi. He has earned the Association of Consulting Foresters (ACF) Designation and is involved with the Louisiana Forestry Association (LFA), Society of American Foresters (SAF) and the Greater Baton Rouge Association of Realtors. 
His experience, occupation, and degree in forestry from Louisiana State University give him the expertise in not only selling recreational and timberland tracts, but also managing property. Being involved in some form of property management day in and day out, Brad knows the intricacies of various types of land. He thoroughly enjoys the land transaction process, especially when it involves exploring a property to learn its key features and coming up with a marketing plan to target specific buyers. 
When he's not out selling land, you can find Brad in the woods chasing turkey in the spring and out on the golf course playing amateur golf tournaments during the late spring and summer months. And in the fall and winter seasons, you'll catch him in the woods, sitting in a tree with his bow.
Brad also spends a lot of his time making memories outdoors with his wife, Haylie, and three children: Loclon, Ally, & Annie. Brad, an ex-colligate baseball player, used to umpire and coach travel baseball until he recently started teaching the game to the next generation of ballplayers: his son's tee-ball team.
– John M. (August 19, 2022)
Interesting property which took creativity to position correctly.
– David H. (February 16, 2022)
– Pat W. (February 13, 2021)
Brad Smith was very professional. In the transaction and dealings I had with him, he was willing to provide expertise and advice eagerly and in a friendly manner. I recommend him.

– James L. (February 19, 2020)
Brad Smith was a very helpful and patient realtor. I was not very tech savvy and he worked with me every step of the process. Within 3 months our land was sold. I would definitely recommend him as a knowledgeable realtor on top of your property and always returns calls and answers questions.

– Vallerie L. (February 11, 2020)
– Stacy S. (October 25, 2018)
I have been working and hunting with Brad Smith for many years. His practical knowledge of land realty and forestry practices implemented in todays diverse timberlands and land management environment has proven his expertise both in the field and in the software used in forest and land management practices. I would highly recommend his consultation to anyone looking to improve their property for hunting, timber/land improvement, or for anyone looking to sell/purchase their own property. His honesty and integrity has proven precedence in both his professional and private life. Hands down one of the best in the business.
– Michael B. (April 23, 2018)
I have had a number of business dealings with Brad Smith over a period of years involving real estate and timber sales and appraisals. I have found him reliable, professional, dependable, and timely in accomplishing tasks that I asked of him. He always keeps in close communication with the client and his integrity is without question. I recommend him highly.
– Michael N. (April 04, 2018)
Brad Smith is a person that you can trust. I have known Brad for years and he will personally look out for you and your interest. In today's time, he is someone you can trust.
– Ryan S. (April 04, 2018)
– Stan M. (March 27, 2018)
I've known Brad Smith and his family for many years. Personally, I know he is an extremely positive and energetic guy always doing it the right way! He's got a great work ethic and would be a tremendous asset with any of your property needs.
– Marty M. (March 21, 2018)
Great company, very accommodating and has always answered any question that I have had. Brad has been very useful in managing my property.
– Jeff R. (March 21, 2018)
Land by State
Land Professionals by State