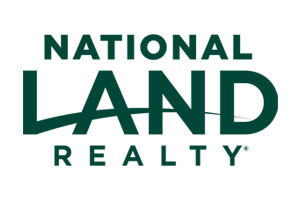 Beth McLellan joined National Land Realty in January of 2018 as the Managing Broker in the Kosciusko office. Beth is a member of the REALTORS Land Institute (RLI) and was the first and the only woman in Mississippi to receive the prestigious Accredited Land Consultant (ALC) designation. She has 23 years of experience in the real estate industry, with 19 years, specializing in rural land sales. She served as the past president of the Attala County Forestry Association and has held several positions on the RLI board and was voted the MS Land REALTOR of the Year in 2011. She has always been a Top Producer and prides herself on being fair, honest, and hard-working.
Beth enjoys working with buyers and sellers to achieve their goals. She and her husband, Bernard, have three children, eight grandchildren, and a brand new great-grandchild. 
– Chris R. (September 20, 2023)
Beth McClellan is very professional and knowledgeable about the land markets in our area. She's courteous, prompt and very thorough with every transaction we do. Glad to have her as she eliminates a lot of our worries when it comes to closing on a tract of land.
– Barry B. (August 16, 2023)
Beth has always been really easy to work with, whether I'm selling some property or looking for more property. She is a pleasure to work with. She is very knowledgeable and I will definitely use her the next time I get ready to sell or buy.
– Jay Albritton . (August 03, 2023)
Everything was as expected!
– David D. (June 11, 2023)
Beth is the best!
– Kathy P. (May 15, 2023)
Beth is always very professional and very knowledgeable about what's going on in every situation. Always good dealing with Beth whether I'm selling or buying something.
– Jay Albritton A. (April 12, 2023)
Beth is as professional as any person I have dealt with. She always keeps us informed of any changes, updates, and any unforeseen situations. She's courteous and very well mannered. We don't have to worry about anything falling through the cracks. We will certainly use her again.
– Barry B. (April 10, 2023)
Beth is very professional and assisted in preparing the property for better marketing strategy . She is highly recommended by our family.
– Cindy A. (February 13, 2023)
I am truly appreciative of Beth McLellan's professionalism and diligence in helping us locate a property to purchase. My wife and I feel as though we gained a friend in the process. She is truly a five star agent.
– Spencer D. (July 22, 2022)
Beth was very responsive and detailed in the transaction I did with her in the purchase of land. She is professional and helpful and made the deal smooth for me and the seller.
– Niles Jerry W. (June 20, 2022)
Very professional, very responsive, very personable. Enjoyed working on this property and two others. Very satisfied and would use again and recommend.

– Larry H. (June 15, 2022)
My agent was very friendly and personable and very helpful in selling my property.
– Barbara A. (May 04, 2022)
– Jude M. (March 09, 2022)
– Cynthia V. (January 05, 2022)
She was very professional and courteous. A pleasure to work with.
– Chris M. (July 19, 2021)
Beth is an agent who I trust and is always very knowledgeable about her properties
– Jay Albritton A. (July 10, 2021)
I had never purchased land before and Beth was so helpful in helping me!
– Jan N. (June 30, 2021)
Beth has always been very professional from the first time I used her to either buy something from or sell something. She always knows what's best for me and what type of property I'm looking for. She is awesome to deal with.
– Jay A. (June 08, 2021)
Beth was excellent and would use again!
– Billy B. (April 09, 2021)
Beth worked extremely hard and always went the extra mile....
– Allen L. (April 09, 2021)
Mrs. Beth remembered me and my interests from over 10 years ago and contacted me about this property. I was thrilled. It was exactly what I had been looking for! I ended up getting the property. Great experience.
– David D. (April 05, 2021)
Beth is one of the hardest working people I know and that's saying a lot with the business I'm in. She is always easy to get on the phone and discuss certain properties I'm looking for. Her knowledge of timber and property is really good. In my business, which is buying, cutting, and selling timber land, I can't afford to have my time wasted and Beth knows that and she is great about showing me exactly what might interest me. I like that about her.
– Jay Albritton . (January 21, 2021)
– W. H. L. (November 19, 2020)
Beth is an excellent communicator.
– Brenda W. (April 22, 2020)
Very good communication, polite, and made her self available to answer my questions.
– Geoff D. (September 23, 2019)
Beth McLellan was the agent we listed our land with. She worked extremely hard to show the land and she was very professional and knowledgeable to get our land sold. We will definitely refer others that are selling their land to call her.
– Charles R. (April 05, 2019)
Beth McLellan has helped me buy and sell several different properties over the years. She is extremely professional, and no one works harder for their clients. I have worked with several different real estate brokers over the years, and hands down, Beth is the best. I give her my highest recommendation. Aubry Cox
– Aubry C. (October 22, 2018)
Beth McLellan and her land team are the most knowledgeable Land Team in the Southeast. They understand all aspects of the market which Include timber, row crop, pasture, rural homes, etc. As an Assistant VP for Lending for Farm Credit we rely heavily on their expertise of the Mississippi Land Market. It's a pleasure to work with the most professional and respectable land team around.
– Alex R. (October 04, 2018)
It was a real pleasure dealing with Beth. I found Beth to be honest and hard working and what else can you ask for.
– Chuck M. (October 04, 2018)
– Ron W. (August 20, 2018)
Great knowledge and experience
– Andy E. (July 13, 2018)
Beth McLellan is one of the most knowledgeable and honest realtors that I have met over the last 15 years. She has aided me in both buying and selling land. I feel she represented her clients and customers to an exceptional degree.
– Andy A. (June 28, 2018)
Beth McLlelan spent the whole day looking at properties with us. She was very patient and competent in giving us answers to our questions She referred other people to us who we ended up working with to complete the purchase of our house in Kosckiusko, Ms.
– Michael R. (April 05, 2018)
Excellent job. Professional, responsive, and very knowledgeable about market in this area.
– Wilson H. (March 20, 2018)
Land by State
Land Professionals by State