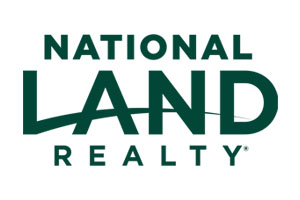 Andrew Lewis brings diverse land experiences to his role as an agent for National Land Realty. After receiving his Master's degree in agribusiness management from Mississippi State University, Andrew worked in the agricultural industry in livestock risk management, agronomy consulting, and sales in Mississippi, Alabama, Georgia, Arkansas and Tennessee.
He grew up helping his father with timber management in south Mississippi, where his passion for the land and natural resources began. He enjoys matching his clients with the right property for their needs, and seeing land optimized for its highest and best use.
He and his wife are raising their young family at their home near Starkville, where he always has a project in the works, whether expanding his orchard and muscadine vineyard or training his bird-hunting dog. 
Very professional, courteous, and always answered all my questions. My agents, Keith and Andrew, always went above and beyond my expectations. I always felt they had my best interests in mind and were giving it their all to help me sell my property. I would use them again in a heartbeat.
– Matthew S. (October 11, 2023)
Keith and Andrew were the utmost professional and were with me step by step in the process of finding a buyer for my property. They did the research of what the land was valued, how much traffic the land had near it as it was more of a commercial property and also listed it in multiple ways (signs, internet listings, etc.). I had constant updates on how many interested parties either viewed my listing by internet traffic data and/or with direct communication from both Keith and Andrew via texts, emails, and phone calls on a regular basis. I had my property listed with another company before National Land Realty and was very disappointed in my previous agent at a different agency since they did not provide anywhere near the service that both Keith and Andrew provided. If I have any future properties to sell, Keith and Andrew will be my agents. I couldn't have asked for anything more as they went above and beyond my expectations in their services. They both definitely earned 5 out of 5 stars for their professionalism, hard work, dedication, and results.
– Matthew S. (September 28, 2023)
Andrew Lewis and Keith Morris are very professional and personable. Andrew asked how I wanted the land tracts marketed and then along with Keith executed my wishes flawlessly. Choosing Andrew, Keith and National Land Realty was one of the best decisions I've ever made. Andrew and Keith immediately made you feel like you were part of their family. Our time was short but that was because they worked hard, got business done and finalized very quickly ! Thank you Andrew and Keith for all you did for my family.
– Genevia S. (May 09, 2022)
Andrew Lewis... What I can say is a young man that did a great job, professional service, with a great attitude. He will keep you updated on where things are standing. You call him, he will answer or return your calls. I want to say thank you Andrew for services.
– Amanda D. (February 15, 2022)
Andrew does an excellent job. Thanks for the service!
– Tim Z. (November 19, 2021)
Andrew was very attentive to details and a pleasure to work with during the sale of my properties. Found buyers in an amazingly short period of time.
– Charles D. (August 19, 2021)
Andrew is the consummate professional. One of the best experiences I have had in buying/selling property.
– Randy D. (July 29, 2021)
Deal with Andrew Lewis was a pleasure. Would highly recommend him!!!
– Chad N. (July 09, 2021)
I cannot imagine working with a better agent than Andrew Lewis. He accommodated our crazy schedules, listened to what we wanted in a property, and was always available to answer questions. He worked hard to understand the properties we visited and helped us to locate and purchase our dream property. He was truly a pleasure to work with during our property purchase and, even after the purchase was completed, has been willing and able to address additional questions. I no longer consider Andrew as an agent, but as a friend.
– Darren M. (June 18, 2021)
Andrew Lewis is one of the best overall people that I have had the pleasure to work with. He is attentive and responsible, very knowledgeable and puts his clients needs above his own. He looks out for his customers' best interest and is always available to answer questions and provide guidance.
– Peyton P. (February 24, 2021)
It's been a pleasure to work with Andrew Lewis over the last 5 years. I've always known him to be responsible, prompt, respectful and honest. I would recommend his real estate services without hesitation.
– Ben S. (January 26, 2021)
Andrew Lewis is service oriented and exhibits a high level of professionalism. I recommend working with Andrew for any real estate transaction!
– Chad S. (January 25, 2021)
Land by State
Land Professionals by State