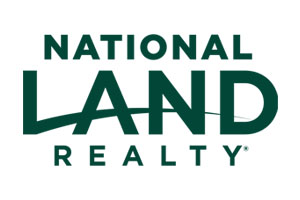 Stephan Tomlinson offers a wealth of experience as a land professional to National Land Realty. While a licensed real estate agent/broker for more than 26 years, he also has personal experience in buying and selling land over the past 35 years with a focus on rural timberland and farmland, and an occasional residence. Through his experience, he sees land through the eyes of a forester, challenges through the eyes of an engineer, and opportunities through the eyes of a broker and acknowledges his team as excelling at problem solving. Currently licensed as Registered Forester in Mississippi and Alabama and as Real Estate Broker in Alabama, Mississippi and Tennessee, Stephan's past experience includes time as a registered real estate appraiser and certified burn manager. His was one of the first businesses to pioneer the use of Scandinavian cut-to-length forestry equipment in the Southeast. Stephan is actively involved in the Alabama Forestry Association, having served as both President and Chairman of the Board of Directors and currently serving on the Executive Committee. He is on the Board of Directors for the Tennessee Valley Art Association and a past member of Auburn University School of Forestry and Wildlife Sciences Advisory Committee, the Council on Forest Engineering, and the Society of American Foresters. Stephan is a graduate of Auburn University, holding a B.S. in Forest Engineering. While there he received the 1985 President's Award for the outstanding forestry graduate, from the Auburn University School of Forestry.
Stephan and his wife Rosario live in the house they designed overlooking the Tennessee River Valley in NW Alabama. They share it with their two sons, who also have three dogs, a fish and a hamster. The fish was a prize at a school fair dating back at least four years ago and is the largest goldfish most have seen. The hamster is just cute. His hobbies have changed with age, but they started out with restoring cars and amateur radio (more of a challenge than a hobby), then shifted to tennis, climbing the occasional mountain, whitewater rafting, and restoring buildings. Higher risk hobbies like motorcycles and powered parachutes were next but he gave them up for the raising kids era (still ongoing). He has now found a way to combine the kid-raising hobby with the construction hobby and his family is now finishing a timber frame building in their spare time.
– Steve J. (April 13, 2022)
Excellent in every way!
– Brenda M. (January 20, 2022)
Stephan and Cheri are a pleasure to work with. Any questions we had were answered very quickly and they made sure everything that needed to get done, got done, to make closing go smooth.
– Nick C. (September 14, 2021)
– Tracy S. (April 20, 2021)
Stephan was very knowledgeable, responsive and professional. Cheri Barnes was great and a pleasure to work with!
– Charles C. (March 15, 2021)
Stephan lavished time on our property search, never seeming to tire of showing us "just one more". His expertise as a registered forester was invaluable since we were looking for a wooded property. He was the sole person in the process who realized the access road everyone was using into the property was not the deeded legal access. He pointed out ways we could significantly improve the value of the property without spending a lot. Most people wouldn't have seen the potential.
– Vanessa S. (September 25, 2020)
The folks at National Land Realty worked hard to sell our timber property. While we owned it, they also managed it for us. I highly recommend them.
– Kevin K. (July 07, 2020)
Cheri and Stephen are an exceptional team. We ran into a ton of issues trying to sell our property from poor buyers, bad lending and title search issues. Every time they handled everything without delay and got our property sold quick. We debated about listing it ourselves initially but couldn't have imagined getting it sold this fast without them. Any land needs we ever have in the future will always be through them.
– Mackay B. (July 07, 2020)
Stephan and Cheri are a joy to work with - extremely professional and responsive. We had a lot of issues during the selling process but they handled everything smoothly and quickly. I am in the real estate field and have worked with a lot of good and bad agents and if you have land to sell or buy, I highly recommend them! They know land and have the industry contacts to represent you very well. My husband and I will continue to have them represent us in future transactions.
– Amanda B. (July 07, 2020)
Land by State
Land Professionals by State