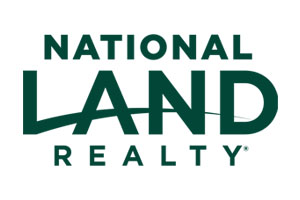 Ryan Schroeter, Broker for National Land Realty in Nebraska, Iowa, and South Dakota, grew up on a Northeastern, Nebraska farm. His father and grandfather instilled his love and respect for the land and the outdoors in him at a very young age. He has been an avid hunter and fisherman since he was able to carry his own gun and fishing pole. His outdoor passions include hunting upland game, waterfowl, turkey, and big game. Ryan, his wife Brenda, and their two daughters live in a small rural community between the Elkhorn and Missouri Rivers. He is a 1997 graduate of the University of Nebraska - Kearney, Nebraska during this same year he received his real estate license. In 2003, Ryan obtained his broker's license. Ryan is an Accredited Land Consultant (ALC) through the Realtors Land Institute (RLI) being 1 of the 7 in Nebraska. His main focus is cropland and recreational properties in Nebraska, Iowa, and South Dakota; throughout his years in real estate sales, he has sold row crop farms, recreational/hunting farms, ranches, acreages, commercial, development sites, and transitional land. While at National Land Realty, Ryan has received numerous Top Producer awards and 6+ Realtors Land Institute, APEX National Broker Award recipient. 
Ryan is great to work with. Ryan knows land values and the market well. I will recommend him to others and anticipate working with him again on purchases and sales.
– Ryan S. (June 13, 2022)
National Land Realty is an incredible company! This was our first time working with them. We can confidently say, based on our experience, it will not be the last. Our initial meeting with Aaron Graham was extremely informative and made it really easy to feel like we made the right choice going with he and his team. He was willing to take on our unique property and his team created a tailored marketing plan which drove significant interest right out of the gate. Aaron aligned us with his broker Ryan Schroeter who was nothing short of amazing. He's been in the business for a long time – and it showed! Ryan went above and beyond for showings and kept us updated while offering meaningful feedback throughout the entire process. His ability to think outside of the box and come up with creative solutions helped get us the best possible deal and is a must have in this market. All in all, we had a fantastic experience, and we would highly recommend National Land Realty.
– Adrienne C. (May 08, 2022)
– Don S. (April 18, 2022)
I had been in the market for a hunting property but I also wanted something with a little income potential on it. National Land had recently listed something that checked nearly all of my boxes. Ryan was the listing agent and I could not have asked for a better person to work with. After making an offer on the property, we discovered there was some title issues and closing got delayed twice. Ryan was great on keeping me informed and keeping the process going. I'll definitely buy through Ryan again in the future when he finds me another property like the one I just bought!
– Tyler W. (April 05, 2022)
Ryan Schroeter just helped me sell my home and purchase my next. He worked harder for me than any other realtor I have used. He was available via text or phone call responding very quickly when I reached out. Thanks for the great experience.
– Laura C. (April 02, 2022)
My husband and I found a small acreage posted right after New Year 2022. Ryan and Noel were the listing agents. Both were great to work with and the process went very smooth. They did a great job representing the seller and the buyer! We are now proud owners of a small acreage. Thank you Ryan Schroeter and Noel Gandy.
– Jason O. (April 02, 2022)
– Nick S. (April 02, 2022)
Ryan considers all the potentials, and works to solve problems before they even happen. He is the best realtor to help you through a stressful process, and his hard work and willingness to help make for a great experience. We love our new house, and Ryan is a big reason why we can call it a home. Thank you.
– Scott F. (March 21, 2022)
So helpful in helping us determine the worth of property and matching our needs and schedules for a great experience and quick turn around. Ryan is the best. We are VERY happy clients! Thanks Ryan :)
– Chris A. (March 21, 2022)
We were looking for a homestead acreage and came across Ryan with National Land as the listing agent on a property we were interested in. Ryan was great... responsive, honest, and very knowledgeable and helpful. Since we did not have an agent at the time, I figured he would be a good choice for us going forward as we continued our search. Turns out that he was such a good broker that we never needed him to work for us since he was dedicated to treating his buyers with as much reverence as the seller he was representing. We were new to a land purchase situation and he was there every step of the way for us. Helped us navigate the contract, CRP red tape, and gave great advice regarding neighbors, upkeep, and eventual land improvements. Long story short... he was a total professional, his seller is happy, his buyer is happy(us) and we now own a 40 acre paradise. Call Ryan... this dude makes dreams come true.
– Daniel C. (March 21, 2022)
Ryan Schroeter was professional and a joy to work with. I would recommend National Land Realty in the future.
– Perry M. (March 21, 2022)
Ryan listed our property and walked us through the process with patience and professionalism.
– Tamara R. (March 21, 2022)
While Ryan was the seller's agent and we were the buyer, he was great to work with. Very fair/ honest and very responsive.
– David S. (March 21, 2022)
Ryan was fantastic to deal with! He went above and beyond to help us through the buying process and to keep us updated on the status of things throughout. He is extremely knowledgeable about all of the nuances involved with Ag/Rec land which made the buying process much easier for us. Thanks Ryan for a job well done! We are already enjoying our new property immensely!
– John B. (March 21, 2022)
– Jason R. (June 21, 2021)
– David R. (June 09, 2021)
Ryan is very professional and he did a great job of helping us find a home. We had been working with another realtor, but became frustrated with several issues while working with them. It just didn't feel like they were looking out for us and what we wanted. I'm so glad we switched to Ryan. He helped us find the perfect property and he made the process easy. It's a fast market right now and his quick response and guidance was impressive. I honestly believe we'd still be searching if it weren't for Ryan. We highly recommend that you contact him for your real estate needs.
– steve R. (March 09, 2021)
Ryan Schroeter is one of the most accomplished professionals I have met in many years. He was so obviously knowledgeable about every aspect of this type of transaction and made selling my land a pleasant and painless experience. I never had to wait and wonder about next steps in the process from beginning to end; his communication skills are outstanding.
– Jane T. (March 09, 2021)
He is pleasant and knowledgable and patient. Handled curve balls well.
– Sharon M. (February 03, 2021)
While Ryan was the seller's agent and we were the buyer he was great to work with. Very fair/ honest and very responsive.
– David S. (January 06, 2021)
– Don P. (December 17, 2020)
Ryan was fantastic to deal with! He went above and beyond to help us through the buying process and to keep us updated on the status of things throughout. He is extremely knowledgeable about all of the nuances involved with Ag/Rec land, which made the buying process much easier for us. Thanks Ryan for a job well done! We are already enjoying our new property immensely!
– John B. (September 24, 2020)
Ryan Schroeter provided us with accurate satellite maps of our property in response to our request. He verified the location and the perimeters, including the recent addition. His promptness, responsiveness, and courtesy are greatly appreciated.
– L.F. D. (March 31, 2020)
We are super glad we found Ryan at National Land Realty to help us sell our farm land. He did an outstanding job from our first meeting to closing. Ryan had great ideas, always available, he is a great communicator, and a good guy. I would not hesitate to call him again if I needed to sell land! High recommend
– Kiley W. (March 16, 2020)
Ryan Schroeter did a great job helping us sell two parcels of land and complete our reverse 1031 exchange. There were many obstacles because of the 2019 flood. Ryan worked hard with the buyers and us to make it all come together in a timely manner. I would definitely use Ryan in the future.
.
– Sue J. (February 13, 2020)
My wife and I just purchased a farm that Ryan had listed and he was great to work with.
– Bill O. (September 23, 2019)
Our family worked with Ryan Schroeter to sell farmland that had been in the family for 150 years. From the beginning of the process to its successful conclusion, Ryan provided exceptional service. He communicated with us frequently and honestly through the stages of the sale all the way through to the signing. While selling was bittersweet, we would recommend Ryan to others without any reservations.
– Susan F. (September 23, 2019)
Ryan did an excellent job!
– Gil W. (September 03, 2019)
Ryan has been great to work with from day 1. He took the time to understand our direction and communicated every step. I would recommend Ryan to anyone looking for a 5- star experience!
– Travis L. (August 14, 2019)
I used to be a Nebraska real estate broker. Ryan is definitely a class act! From the first call Ryan did an excellent job selling our property. He knows his business and makes sure to continually communicate and listen to his sellers wishes! I would give him more stars if they were available.
– Gil W. (August 13, 2019)
Ryan did an absolutely fantastic job selling my property. It was a labor of love for me for more than ten years and it wanted to be sure it remained the great fishing, hunting and relaxing place it had become. Ryan not only found a buyer, the found the right buyer--someone whose intentions for the land mirrored mine and who will continue to enjoy it as much as I did.

Truly, he went above and beyond on every aspect of the transaction, keeping me informed, culling the tire kickers and, in general, making it a very smooth process. As I had moved and it was difficult for me to get there to do any ongoing maintenance, etc., he took it upon himself to make sure everything was in top shape. Just incredibly client-minded.

You can't do better than Ryan for representation on recreational property. He gets it and you can count on him. Period.
– Mark R. (April 29, 2019)
Ryan is great to work with. He is passionate about what he does. Puts his clients first. Will go the extra mile. Highly recommend.
– Lynnette A. (March 15, 2019)
– joshua s. (October 26, 2018)
Ryan S. is an outstanding agent. Works hard to get a deal done. Knowledgeable, good people skills and realistic are characteristics he brings to the table. Will be using Ryan to sell/buy other real estate.
– Mitch W. (October 25, 2018)
He/they walked us through the process and answered all of our questions.

– Lora Y. (August 12, 2018)
Professional, hardworking, and punctual. Worked hard and got the job done.
– Daryl C. (May 18, 2018)
I appreciated Ryan's quick responses to all of my questions and inquiries.
– Brice C. (January 30, 2018)
Ryan was very professional and courteous when first meeting my grandmother to sale her farm. My grandmother had lived on the property for over 50 years and due to health reasons had to move to a nursing home. It was a rough time for my grandmother but due to Ryan's understanding and compassion it helped my grandmother knowing that Ryan cared about the property like it was his own. Ryan also commicated with family about the property and process which helped ease the stress of dealing with the process. Everything went smoothly and had a couple of offers on the land and my grandmother and family was very happy with the selling price.
I would highly recommend Ryan for any future sells.
– Travis L. (January 15, 2018)
– John L. (December 28, 2017)
I was not a passive client. I was almost contacting Ryan weekly for an update. I know this was not easy for him. However he was always available or would call me back directly. He was always open to talk to me, answer any questions and share his ideas and suggestions. I was very impressed with his work ethics and approach! Great job!! Top notch will recommend Ryan to everyone. I will miss the weekly talks.
– Gerald R. (November 29, 2017)
Ryan is very knowledgeable on recreational properties! He knows a lot of details when it comes to fishing and hunting properties. I would recommend him if you are wanting to sell or buy a recreational property!
– James S. (October 20, 2017)
National Land Realty and especially Ryan did an excellent job on our first purchase of recreational land. Ryan made the process enjoyable and stress free. He was able to answer all of my questions and addressed all my concerns. Highly recommend him and National Land Realty to anyone looking for property. Can't wait to start enjoying our purchase!
– Troy C. (January 03, 2017)
Property seemed to be well presented in the ads I looked at.
– Lynn J. (November 29, 2016)
– Nicholas W. (October 31, 2016)
Really did a great job advertising! Only 1 thing wrong with the whole deal and that was not his fault.
– MATTHEW B. (June 14, 2016)
Ryan did an excellent job, this is the second time I have used him and will use him again in the future.
– Steve M. (April 21, 2016)
We thought he did a good job.
– Tammy T. (January 07, 2016)
Previously Land Pros did a superb job in selling my property. As a result on the second property I would not consider another company. They again did a great job of selling my property quickly. Having had 2 sales I have worked with most of their people and find them all so knowledgeable, professional and just the best in every way.
– Jean R. (December 18, 2015)
Ryan was very good at following up with potential buyers and keeping them interested in the property. He was also good at keeping a steady flow of lookers coming out to the property. He always answered his phone and if he didn't he called back in a timely manner. Most importantly he got the place sold!! No complaints here.
– Keith S. (October 19, 2015)
Previously purchased from LandPros
Good emails. I read them.
Regularly visit your website. Good website. Most all necessary information. Good pictures
– Ronald H. (October 19, 2015)
Ryan does a great job for Land Pro's. He is knowledgable and very responsive. He understands that "time kills deals" and is great about having a sense of urgency to get questions answered and drive to closing. He will certainly represent me on all transactions i do in NE and KS concerning recreational properties.
– Maxwell S. (October 19, 2015)
Everybody at Land Pros did everything perfectly including dealing with the hassle that seemed to go with it. I appreciate and thank you for all your efforts. Keep up the good work and it was my pleasure to work with you. Thank You!! Jean
– Jean R. (October 16, 2015)
Ryan was great all the way through. I had a great offer on the property within two weeks and we closed very quickly. Totally painless on my end.
– Bradley B. (October 09, 2015)
Ryan did an outstanding job and provided exceptional service and advise throughout the entire process.
He truly made the differance witht the selling process.

Hats off to you Ryan
– Christopher B. (September 22, 2015)
– Robin M. (July 25, 2015)
– Brandon V. (July 09, 2015)
Ryan was a great resource. Even though he was the buyer's agent, he was very helpful to us guiding us through the selling process and keeping us informed of what was happening.
– Mike S. (May 06, 2015)
– Edward F. (April 10, 2015)
Just his all around professional knowledge. Plus I know his grandmother so was sure I could trust him.
– Donna M. (April 03, 2015)
– Robert M. (February 17, 2015)
Ryan was very thorough in researching the property and its market value. This was especially helpful since we live far away and were not able to get out to the property ourselves.
– Natalya M. (February 17, 2015)
– Tom K. (February 17, 2015)
– Jesse H. (February 06, 2015)
– Rob L. (December 12, 2014)
– John S. (November 17, 2014)
– Mike S. (November 05, 2014)
Land by State
Land Professionals by State