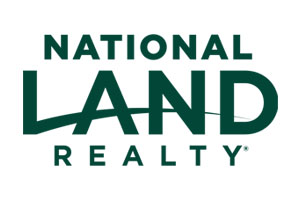 Jim Fleissner joined National Land Realty in 2018. Jim has a passion for selling hunting land and understands the dream behind finding the perfect tract of land. Jim received a bachelor's degree in biology from the University of Nebraska Omaha and an MBA in business administration and management from Creighton University's Heider College of Business. He is also a member of Young Professionals Omaha, and Young Professionals in Agriculture - Eastern NE and Southwest IA chapter. 
Jim and his wife, Jodi, currently live in Treynor, IA and have three children. In his free time, Jim enjoys hunting, fishing, and helping his children develop the same love he has for the outdoors.
– Douglas H. (July 11, 2022)
With the professional help of Jim Fleissner, Land Professional with National Land Realty, I recently successfully sold my farm. His great negotiation skills found a qualified buyer. He guided me through the legal paperwork. With patience, he answered all questions and provided the real estate experience necessary. This has been the biggest financial transaction of my life!! I would highly recommend Jim to anyone looking to sell their property.
– Cathy W. (March 23, 2022)
– Ron R. (March 09, 2021)
– John C. (October 19, 2020)
I would highly recommend Jim Fleissner to anyone looking to purchase land. He is very knowledgeable and trust worthy! You won't go wrong with Jim on your side!
– Hayley P. (February 10, 2020)
Had a great real estate buying experience with Jim Fleissner. The whole transaction, from start to finish, was very smooth and professional. Next time I buy a farm, my first stop will be with Jim.
– Jon L. (February 10, 2020)
Jim took the time to find what we wanted/needed made it happen. Fully recommend him. Thank you!!
– Jonathan F. (April 29, 2019)
Recently worked with Jim F and the process went very smoothly and closed way sooner than I anticipated that it would. Recommend using them for your real estate needs.
– Susan F. (April 01, 2019)
Jim was great to work with and was able to answer all my answers quickly.
– Linsey H. (April 01, 2019)
How to Split Parcels
August 27, 2021 by Jim Fleissner
I'm not Barbara Walters, and thank goodness 2020 is behind us! One of the big lessons I learned in 2020 that I'd like ...
Land by State
Land Professionals by State