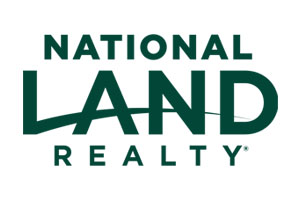 Forrest During joined National Land Realty in 2016 and is the managing broker for the Southeast region. He was a top producer for National Land Realty in 2019, 2020, 2021, and 2022 and was a recipient of the Realtor Land Institute APEX Award for 2019, 2020, and 2021. He also received the Rising Star award for National Land Realty in 2020 and was the 2023 Alabama Land Realtor of the Year. He was raised in Chelsea, Alabama. While growing up, he spent most of his time working on his family's farm or helping his father, a forester and lumber broker, with his business.
Forrest specializes in acquisitions, sales, recreational, timberland, and conservation properties. He has a degree in Environmental Science from the University of Alabama and worked as an Environmental Consultant for five years before pursuing his passion for land brokerage with National Land Realty. This previous experience, along with his background in farming and familiarity with southeast Alabama, allows him to match the right property to the right buyer and help sellers meet their goals.
Actively involved in his home community of Dothan, Alabama, he is a member of several organizations such as the National Realtors Land Institute, National Wild Turkey Federation, Ducks Unlimited, and Coastal Conservation Association. He also sits on the board of the Alabama Realtors Land Institute, as well as the Alabama Wildlife Federation.
Forrest and his wife, Madison, currently live in Dothan, Alabama. They have a son named Ford and a Golden Retriever, Hemingway, who often joins Forrest when he's out showing properties. In his spare time, Forrest enjoys spending time with his family and friends, hunting, and fishing.
Forrest did a great job during the sale of my farm. He was quick with a text or email on any questions I had during the process. Very professional. Would highly recommend him for any real estate needs you would have!
– Daniel J. (November 04, 2021)
Forrest During is the ultimate professional! I asked him to sell my property in Henry County. He went to work immediately walking the land, learning it inside out when other realtors told me it couldn't be walked. He talked to nearby land owners and within 2 weeks had an offer. That offer fell through (not Forrest's fault) and within 3 weeks he had another offer. We just closed the sale and I am very pleased with the proceeds. Forrest works hard to get the job done. His work ethic and integrity are exceptional. Thanks Forrest!
– Wanda R. (March 01, 2021)
Forrest During helped us find a piece of property in 2020. We had an idea of what we wanted, and Forrest helped us prioritize all those ideas. He listened to us, and showed us several pieces of property that would work for us. On several occasions, I thought we were absolutely stuck, and Forrest would find a way to get us over the hump and moving forward again. Also, Forrest knows everyone. We bought a piece of property that didn't have road access. Forrest knew the owner of an adjacent property with road access, so we were able to buy that parcel to make the deal work. He just finds a way to make it work. I highly recommend Forrest During if you are buying or selling property.
– Paul C. (February 07, 2021)
Forrest and his team have a passion for helping their clients fulfill their needs. From professionalism to attention to detail, they are truly the best in the business!
– Tom L. (August 27, 2020)
I worked with Forrest During during a recent transaction and I have to say that I am extremely impressed with his character, integrity and work ethic. It is hard to find people these days that actually do what they say they will and in the timespan that they agree to. Forrest did all that and more. COVID-19 threw us some monkey wrenches, but Forrest rose above and went beyond what was reasonably expected and got the job done anyway. I will recommend him to everyone and if I have a need, I will definitely call upon him and National Land Realty again in the future.
– James T. (August 27, 2020)
I've had the opportunity to work beside Forrest, and he is a wealth of knowledge. Very responsive to any questions or concerns I've had in the rural real estate world.
– Gabe G. (August 27, 2020)
Forrest was very helpful throughout the process.
He was very professional and pleasant each time we spoke or messaged each other.
– Terry F. (September 09, 2019)
Entire transaction!
– gary s. (September 09, 2019)
Well informed on all aspects of the property. Kept me up to date on happenings of the property. Good agent!
– Don G. W. (August 23, 2019)

Forrest During is one of the best agents. Honest, dependable, and knowledgeable! 5 stars
– Bryant M. (May 09, 2019)
Forrest During has been a great agent to work with! Diligent, honest and very well versed in his field. Will keeping working to find the right property for you. Highly recommend!
– Landon R. (May 09, 2019)
I hired Forrest During with National Land Realty to sell some property in Wilcox County as part of a client's Chapter 11 bankruptcy proceeding. The sale had to bring in enough to satisfy the lienholders and close quickly enough not to impact the bankruptcy. It was a tall demand and Forrest exceeded expectations by moving the property much quicker than expected and for more than expected. He was a phenomenal resource, is extremely professional, and I will continue to use him for any of my future clients that need to list rural/timber land.
– Willis G. (May 09, 2019)
Our agent was very interested in our wants and needs in finding the perfect property in our price range. He was punctual, congenial and very informative during the purchase process. We appreciate him immensely. Thank you to Forrest!! Super Job!!
– Phillip W. (January 25, 2019)
Everything ask of him.
– Tom F. (January 24, 2019)
Sold two tracts of land for us in a very timely manner. He kept us informed about everything that happened.
– William F. (December 20, 2018)
– Edgar M. (December 14, 2018)
We think our agent Forrest During went above and beyond to help us sell and purchase our property. He was very knowledgeable and fair. We couldn't have had a better experience.

Tim & Cheryl Landrum
– Timothy L. (September 14, 2018)
Forest did a good job on selling our property.
– Bonnie S. (September 05, 2018)
– JERRY (MIKE) B. (August 27, 2018)
Forrest was awesome to work with very knowledgeable of his job very professional and courteous at all times look forward to working with him in the future
– Tim L. (August 14, 2018)
Forrest During was always willing to take time for us. He was more like family than an agent. He is such a great person. I would recommend anyone looking for an agent to contact Forrest.
– Sandra L. (August 09, 2018)
Forrest During was great through the whole process. He was professional, courteous, and very knowledgeable about buying land tracts, and was very familiar with the property I was interested in. He was honest and upfront about the whole process and was very easy to talk to and work with. If I am in a position to purchase again, I will call Forrest from the get go!
– Kevin R. (June 28, 2018)
Sold land in a timely manner, kept us informed.
– William F. (June 01, 2018)
Great people to work with
– Robert L. (May 31, 2018)
Forest advertised and sold our Shawnee property very fast at asking price. We really appreciate that. We have two other pieces of property for sale and hope that he can sell them also. He is a really good, positive agent.
– JOHN D. (May 03, 2018)
Forrest was great to work with and I plan on working with him on future deals.
– Paul H. (March 19, 2018)
– Hank M. (January 31, 2018)
Forest was timely down to earth. Diligent in solving issue in short order. Just all around great guy pleasure to work with
– Steve D. (January 24, 2018)
Forrest Durring did everything well.
I had no complants about him.
– Johnnie W. (December 13, 2017)
The first buyer backed out a few days before closing, creating a number of issues where I incurred costs. Clint and Forrest never wavered in working to reach a settlement with the initial buyer and quickly delivered a 2nd offer that resulted in a sale. It wasn't easy or fun but they stayed the course and delivered. I appreciate their hard work and dedication to seeing this deal through to the end. I didn't decide quickly on who I would list my property with but now know that I made the right decision.
– Ray K. (December 12, 2017)
If I had any more land to sell I would contact National Land.
Good job..thanks
– Thomas G. (October 24, 2017)
Did a great job of informing about description of property. Always available with information (in a timely fashion). Very professional and well mannered. Also, made it clear to me that he is available for follow up if needed. Showed the property in a professional manner and answered all questions (more than once). No complaints.

Only thing I can think of that agent could do to improve is to pay for the property for me.

Wayne Fendley
– Wayne F. (September 18, 2017)
Forrest was a pleasure to work with. He did everything he said he would and was always cheerful and positive in doing it. We are the proud owners of a beautiful, one of a kind piece of property. Thank you Forrest! ☺
– Curt & Nancy K. (September 06, 2017)
I have only good things to say about Forrest and Clint. I originally contacted them about a property that was no longer available. Forrest stayed in touch, suggested property we might be interested in, and found the right piece for us. When we met to look at the property, Forrest and Clint showed us the property and answered all our questions. Clearly they were very knowledgable not only about real estate generally but about the specific piece of property. When we agreed to purchase the property they moved the process along and kept us informed. They have introduced us to people to help us with things we need to do to develop the property for our use and have followed through to assist us since closing. I absolutely would recommend him to anyone.
– James F. (August 22, 2017)
– charles f. (July 12, 2017)
I have known Forrest for over 20 years and he always puts his clients first. Forrest's professionalism and character is what makes him stand out amongst other agents in his field. I highly recommend using Forrest whether you are looking for land or trying to sell yours.
– Cody A. (May 29, 2017)
Dealing with Forrest was a pleasure. Forrest During is a very polite and trustworthy young man and I feel he has a lot of success ahead of him. He showed my tract to many clients but never gave up and finally sold the property for just about what I was asking. I think that Forrest During would be a valuable asset for any company he works for. I can't say enough good things about the man.
– Charles F. (May 15, 2017)
Land by State
Land Professionals by State