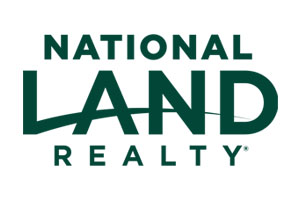 Clay "Buddy Lee" Baxter joined the National Land Realty team in April 2021. Clay grew up and worked on his family's 3,200-acre Ranch for 10 years before joining the U.S. Air Force. He has worked in real estate for the past 7 years. Clay retired from active-duty Air Force as a Senior Master Sergeant and has served 5 tours in the Middle East. As a rancher, Clay has an interest in large acreages of recreational and agricultural land. Clay is actively involved in Oklahoma Ag Credit as a nominating committee member, Realtor Land Institute as a member of the chapter board of directors, and the Disabled American Veterans as a lifetime member. Clay currently resides in the McAlester, Oklahoma area with his wife and Three Labrador retrievers. When he is not working, Clay enjoys woodworking, hunting, fishing, traveling, and spending time with his family.
– Bill C. (July 05, 2022)
I can't say enough about how helpful Clay Baxter was in finding the perfect property. He kept us informed through the entire process and continues to help after we closed on the property. Greatly appreciated. -Lee
– Lee L. (June 09, 2022)
Clay will always be my favorite realtor!! He made selling my home of 38 years so easy. I have worked with a lot of different realtors from a lender's perspective over the years and Clay is truly unique in his field. He is highly professional, very knowledgeable, and has the best interest of his client at heart. He gave me very sound advice on what would make the property stand out to a prospective buyer without going to a lot of expense. He kept me up to date with the process after the sales contract was signed. And helped dry a few tears at closing :) I would highly recommend Clay to my friends, family, and co-workers, whether it is selling or buying. Thanks, Clay!!! Your friend always, Amanda
– Amanda F. (November 15, 2021)
– Stan H. (September 24, 2021)
Clay Baxter is a great realtor and person in general to work with. He is very knowledgeable about the land in his area and will get out there to find what you need. Clay is a person that listens first before he reacts. I have worked with Clay on several transactions as a lender and he will not let any detail slip through the cracks.
– Travis H. (July 21, 2021)
Clay Baxter was outstanding from start to finish with the sale of our two family owned land properties in Hughes County. His professionalism and attention to detail is exceptional. He found buyers that provided us with great offers that we accepted. Clay carefully followed through to get the properties closed. His strong land sale experience made a big difference. He's also a very nice man that truly cares and communicates effectively with his clients.
– Bruce B. (June 23, 2021)
Clay is absolutely amazing!! I can't say this enough. We have had the pleasure of both buying and selling with him. We will always use him!!

– Kristin and Gee M. (May 24, 2021)
I had a ranch and a home for sale for about a year and a half. Then I met Clay. Clay is the most AWESOME realtor I've ever encountered. The property was on the market for 7 days with 5 showings 2 formal offers and it sold on the 7th day. I live in another state so having Clay represent me was a blessing. His honesty and integrity and kind spirit were welcoming. I never distrusted him for a second. He always put my thoughts and ideas above his and so humbly offered advice. Clay went far and above for my beloved ranch. He did repairs, trimmed trees, shopped, hired repair companies, took fabulous photos of the home and property and set outdoor cameras to catch shots of wildlife. He knew the property boundary lines, where all the ponds and gas wells were, but most of all he loved and believed in my ranch. That's why it sold, because of, Clay. You're AWESOME Clay!!!!!
– Sandra S. (May 24, 2021)
The best experience we've had purchasing a new home. We feel confident it wouldn't have been such without Clay Baxter. Unlike previous experiences, Clay spent the time and effort to locate the right property for US rather than just making a sale. Clay's overall patience and knowledge of land in the area put at us ease throughout the entire process while moving from out of state. Can not recommend Mr. Baxter enough...he is our realtor and new friend for Life!

– Wini J. (May 24, 2021)
I tried two other realtors before finding Clay. He was knowledgeable, thorough and patient. He kept in constant communication with us and went above and beyond to make sure it was a great experience during a long and difficult closing process. I would highly recommend Clay.
– Jason R. (May 21, 2021)
Land by State
Land Professionals by State