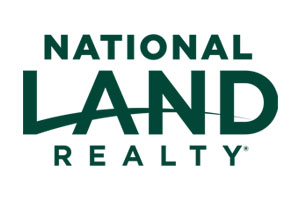 Aaron Sutton is an Eastern North Carolina native as he was born and raised in Kinston, NC.  He attended East Carolina University where he graduated with a Degree in Construction Management and a Minor in Business in 2011. Aaron brings a vast amount of knowledge to the land sales market as an avid sportsman, conservationist, and role model to young hunters. He has traveled North Carolina hunting from the mountains to the coast and ventured throughout the US and Canada on hunting trips as well.  Aaron currently lives in Kinston with his wife Leslie, his 10-year-old daughter Aarlee Micah, and his 4-year-old son Beau. 
Aaron was named a Top Ten National Producer in 2017, 2018, and 2022 along with being named Managing Broker of the Year for 2019.  Also in 2022, the Eastern NC office was named the National Office of the Year which Aaron manages. He has a great understanding of the local area with regard to farmland, timber tracts, and hunting properties. With over 15 years of real estate experience, Aaron understands how to obtain or sell properties with the customer's best interests at heart.  He also has created a niche for himself by building relationships amongst clients as he promotes integrity, honesty, and creating mutual trust between himself and buyers or sellers.  
He did an excellent job handling from start to finish. We had never bought or sold any property, so we were real newbies. He walked us through every step and explained everything so that we could understand and that took a lot of patience. We consider Aaron not only a great agent, but he now is a dear friend.
– Pamela H. (March 15, 2023)
Aaron Sutton did a great job!
– William V. (January 04, 2023)
You give a five star rating when everything is done the very best it can be - and our experience truly was just that.
– John,Frank & Ken V. (June 07, 2022)
Mr. Sutton has sold several of my properties in North Carolina. I feel like he has become a friend without ever meeting him in person. I am looking forward to working with National Land Realty in the future.
– Teresa M. (October 18, 2021)
– Jack C. (September 24, 2021)
Very professional and responsive. Aaron Sutton with National Land Realty exceeded our expectations with the sale of my mother's farm land.
– Scott J. (July 10, 2021)
– Gray B. (June 18, 2021)
Very knowledgeable, courteous and professional.
– P B J. (March 23, 2021)
– Jeromy G. (March 18, 2021)
Very knowledgeable, professional and courteous.
– PB J. (March 03, 2021)
It was an absolute joy working with Aaron Sutton to purchase land! He is the most professional, knowledgeable, and responsive real estate agent we've ever worked with. Aaron walked us through the process and was on top of everything each step of the way. He thought of every possible situation that could cause an issue, and was very proactive. We had the most pleasant experience, thanks to Aaron's hard work and dedication. We highly recommend Aaron to all our family and friends.
– Karen F. (February 11, 2021)
Aaron can definitely get the job done and has great ideas on how to maximize return. Looking forward to working with him on other properties

– Ken V. (February 11, 2021)
Aaron (our agent) spent many months and sorted through hundreds of listings to help us find just the right property. He was attentive, responsive and professional through every step of the process. He spent many hours showing us numerous properties and was extremely patient in helping us make the right choice. I would highly recommend Aaron and National Land Realty. Thanks Aaron!!

– Andy B. (February 11, 2021)
Aaron is a very professional, personable, and proactive agent. He always answers and returns calls promptly. He goes above and beyond his job duties, doing everything he can to help market the property (even bush-hogging paths for prospective buyers). I have already recommended him to others, as we couldn't have been more satisfied with his services.
– Mary W. (June 11, 2020)
– Bryan C. (October 03, 2018)
– Tony C. (October 03, 2018)
He kept us informed of everything as it occurred.
– Linda P. (July 19, 2018)
– Jackie L. (July 11, 2018)
Very knowledgeable about the documents needed and timelines of the procedure. Always kept us updated as sale progressed and especially if there was a delay. Very easy going personality and always willing to address any concerns or questions. Accommodated our schedules during proposal and closing. Great agent to work with.
– Ed B. (September 21, 2017)
Due to the fact I'm living in Alabama, he handled everything and put my mind at ease. Good job.
– Theresa M. (September 19, 2017)
He understood our needs and concerns and met them all. Very impressed with his listening skills.
– Dale B. (June 28, 2017)
Land by State
Land Professionals by State