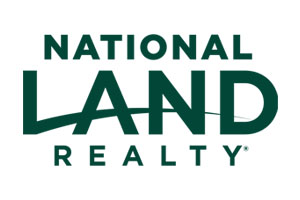 Aaron Graham serves as the Chief Innovation Officer at National Land Realty and is President and Partner at National Land LLC. He is a licensed real estate broker in Nebraska and Iowa.
Aaron entered the real estate business in 2004, after retiring from a successful NFL career where he played for the Arizona Cardinals, Oakland Raiders, and Tennessee Titans.  Since then, he has brokered over $300,000,000 of land transactions throughout the Midwest, mainly in the farm, ranch, and recreational market sectors.  
Aaron has earned the esteemed designation of Accredited Land Consultant with the Realtors Land Institute (RLI), which only the best in the land business achieve. In 2016, RLI presented Aaron with the Rising Star Award, which is awarded to one individual each year for making significant contributions to the land profession and to the Institute. 
In his spare time, Aaron enjoys all things outdoors. He is an accomplished hunter who has enjoyed pursuing wild game across the world. He especially enjoys fishing the Gulf waters from his 34' Yellowfin. Aaron lives in Gretna, NE with his wife, Kim, and they have 4 children, Cooper, Baylen, Landrie, and Nash. 
He/they walked us through the process and answered all of our questions.

– Lora Y. (August 12, 2018)
– James S. (October 20, 2017)
Aaron and Molly[McClure] blew us away with their professional approach to a difficult family decision. They explained the process before, during and after the sale.

It was a sometimes emotional process letting a century old piece of family history go. There was never any pressure from Aaron or Molly, just compassion and understanding. It is so refreshing to work with a company that is motivated to do the right things for its clients.

Best of all, by using Aaron and Molly, the sale of the family farm resulted in a sale price that none of us thought we could get. I highly recommend, without any reservations, using Aaron and Molly for any land sale.
– Jon S. (September 26, 2017)
Aaron was easy to get in touch with and was extremely professional. We seem to hit it off from the start and it only got better. I was confindent in his advice concerning the sale of this property and the results were nothing less than amazing- in less than a month and it was sold! Sometimes everything just goes right and it was certainly the case with the sale of this property in working with Aaron. Very grateful to have found him to be able to get his experience.
– Rod H. (April 18, 2017)
– Brian W. (February 28, 2017)
– Don W. (February 23, 2017)
Aaron is professional, knowledgeable and one of the most responsive professionals I've used in any field.
Many professionals are busy, Aaron always takes time to speak about the situation, and if he is not available, I get a call back within an hour.
If you are selling or buying land, you want him in your corner everytime.
– chris t. (August 29, 2016)
– Louis R. (August 15, 2016)
– David A. (August 09, 2016)
– Curtis R. (July 18, 2016)
Previously Land Pros did a superb job in selling my property. As a result on the second property I would not consider another company. They again did a great job of selling my property quickly. Having had 2 sales I have worked with most of their people and find them all so knowledgeable, professional and just the best in every way.
– Jean R. (December 18, 2015)
– Chad L. (October 19, 2015)
Previously purchased from LandPros
Good emails. I read them.
Regularly visit your website. Good website. Most all necessary information. Good pictures
– Ronald H. (October 19, 2015)
Everybody at Land Pros did everything perfectly including dealing with the hassle that seemed to go with it. I appreciate and thank you for all your efforts. Keep up the good work and it was my pleasure to work with you. Thank You!! Jean
– Jean R. (October 16, 2015)
– Michael B. (September 08, 2015)
Kept me aware of property that would be available as well as if properties would fit our needs. Aaron was always honest with us and was never offended when we disregarded listings presented to us that we rejected. He knew what we were after and kept looking.

– Michael W. (August 20, 2015)
Aaron did a great job in selling our land. It proved to be very difficult due to the changing market; however, Aaron got it sold. He did a great job and was always so helpful along the way. Cheryl and Molly were great as well.

Thanks again!
Krissy
– Krissy H. (April 22, 2015)
I believe that the company represented my interests very well. I believe that the name recognition of Aaron Graham was a factor in the sale of my property. The company really kept us in the loop and got us a very good deal. I would definitely recommend this company to others and would use them again if I have a need to purchase or sell a property.
– Edward F. (April 10, 2015)
– Donna M. (April 03, 2015)
– Jesse H. (February 06, 2015)
– Ryan Z. (January 23, 2015)
Aaron did a great job, and I would highly recommend him.
– Mike S. (November 05, 2014)
Land by State
Land Professionals by State