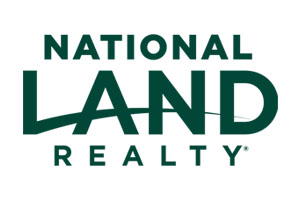 Valorie Vietti joined the National Land Realty team in February 2021. Valorie spent her early childhood growing up in northeast Georgia where her family raised beef, poultry, and swine. She learned at an early age the meaning of hard work and dedication to a job while maintaining the systems in their farming operation as her daily chores.  Prior to joining our winning tradition at National Land Realty, Valorie spent the previous 15 years working in the banking industry. Serving as Vice President she acted as a lending officer and bank development coordinator. Her experience in loan processing can be a valuable asset to those who have questions during their buying and selling experience.  Valorie served on the Chanute Chamber of Commerce for 5 years and was Co-Chairman of the local Ducks Unlimited chapter for 3 years. 
Valorie currently resides in Chanute, KS, with her husband Tim who is also a real estate agent, local firefighter and her best friend. Together they share four adult children who are all starting their own life adventures. Valorie understands the meaning of developing relationships and walking away not just customers, but also friends.   Contact Valorie today to find out what National Land Realty can offer you. 
Valorie and Tim Vietti were fantastic to work with. They were prompt, professional, and knowledgeable. Best of all, though, was there clear communication, including regular updates.

I sought them out because of how well they had marketed another property that I was interested in purchasing, including great pictures. That marketing helped that property sell quickly. Valorie also took the time to return my call even though that property was already under contract. It was that amazing professionalism and great marketing that made me want to hire the Viettis to sell my property. They exceeded my expectations! I would highly recommend them to anyone in Southeast Kansas looking to sell their property.
– Jake K. (November 21, 2023)
Our experience with Tim and Valorie Vietti was truly a welcome blessing. My wife and I had little experience in the real estate world, not too uncommon I suspect. Navigating this process of buying and selling of properties seemed remarkably daunting to us at first. With the Viettis guidance and knowledge, our experience was, I guess, easy! A drastic shift from the nightmare we initially anticipated. With their help, we now have a new perspective on the property market. Thanks National Land Realty, but most of all, thank you Viettis !
– Justin F. (November 07, 2023)
Tim and Valorie did an awesome job! I have been in real estate 40 years and they were the best agents ever! I would highly recommend them! Thanks!
– Robert T. (July 26, 2023)
Everything was exceptional!
– Robert T. (July 25, 2023)
Tim and Valorie are very knowledgeable about their market and were totally professional every step of the process. They made our experience very comfortable and easy throughout the purchase of our new farm. Can't thank them enough for everything they did for us. Thanks again, Tim and Valorie!
– Anthony T. (February 13, 2023)
Tim and Valorie are very knowledgeable about their market and were totally professional every step of the process. They made our experience very comfortable and easy throughout the purchase of our new farm. Can't thank them enough for everything they did for us. Thanks again. Tim and Valorie
– Anthony T. (February 10, 2023)
Team Vietti, Tim and Valorie Vietti, set the bar for what a quality Real Estate Agent should be. They are both extremely knowledgeable professionals that strive to provide outstanding service. They did what they said they were going to when they said they were going to do it with a tremendously positive attitude. They went far beyond what I expected in providing all necessary information pertinent to my property that would assist buyers in making an educated decision about their feasibility in purchasing the land. They walked me through the steps of selling my property through the 1031 exchange process and made the sale as seamless as possible. I highly recommend Team Vietti to anyone interested in selling their property. They are the standard for which all should be graded.
– Tommy J. (December 30, 2022)
The Vietti's did a fantastic job of making this process easier to understand. They were always a phone call away and always made sure to answer my questions in full. They were honest and upbeat during the whole process, I really appreciate how much work they put into this process to make it that much easier on me. I always felt that no matter the question, I could ask them at any time and they would work on an answer for me or point me in the right direction to get an answer. I would absolutely use the Vietti's again and would recommend them to anyone interested in buying or selling a house.
– Johnathon A. (October 24, 2022)
– Anna E. (October 10, 2022)
They were super friendly, always had an answer for my questions and had great response to any text or call!
– Jacob M. (September 06, 2022)
Tim and Valerie Vietti did an amazing job. They were thorough, communication was prompt, and the overall expertise of marketing my home was spot on! I would highly recommend their services.
– Tonya F. (August 16, 2022)
Valorie and Tim are the best!
– Mary W. (August 11, 2022)
Started our search for some Kansas hunting property back in early March. After having some interest in properties listed by other realtors, but no response, we finally got in touch with Valorie Vietti. She reached out immediately and within 2 hours she and Tim had driven up to Greenwood County to show us some properties. After looking at several through the course of 2-3 weeks, we found a little 224 acre property that we absolutely love thanks to Tim & Valorie. Two very top notch realtors that make the process very enjoyable. I will use them for every land purchase going forward.
– Jackson S. (July 07, 2022)
Very fast response. Professional courtesy at its best.
– Neola E. (June 15, 2022)
Very professional, helpful and friendly!!
– Nadene E. (June 15, 2022)
She was always very friendly and knowledgeable.
– Janice G. (May 19, 2022)
– Daryl S. (April 22, 2022)
Tim + Val were very professional and knowledgeable of the market from the get go. They were open, honest, and had uplifting positive attitudes through the entire process. We especially loved that they brought their side by side to take perspective buyers on a tour of the land. 10/10 would recommend these two to sell your property, because that's exactly what they'll do!
– Meg S. (April 21, 2022)
Valorie and Tim were both very helpful. They were spot on with pricing to sell as well as making an offer to buy. Home buying/selling is a very stressful process and these two were there for every up & down!!
– Grace M. (February 19, 2022)
I couldn't have asked for a more amazing realtor! So helpful, so patient, so willing to explain everything along the way. Thank you so much for everything you've done for me and my family!
– Taylor D. (February 18, 2022)
Tim and Valorie were a HUGE help to my fiancé and I in buying our first house! They are both great company, easy to talk to, and answer any questions you may have along the way. I highly recommend them if you are looking to purchase a house and turn it into a home!
– Emma B. (December 16, 2021)
Tim & Val Vietti really know their stuff. Their mix of knowledge of real estate and the outdoors makes them the perfect agents to help anyone looking for land. And they are great people that you'll call friends on top of all that. I highly recommend Tim, Val and National Land Realty.
– Casey L. (September 30, 2021)
The Vietti's are a great couple that love lending a helping hand wherever they can and that directly transitions into their work for National Land Realty. If you need to buy, sell, or are just looking for any sort of advice regarding real estate, they would be more than accommodating.
– Dalton W. (September 30, 2021)
Valorie was great to work with. Made the whole process very easy and straight forward. Took care of everything. I couldn't be happier
Highly recommended!
– Petra T. (September 30, 2021)
Land by State
Land Professionals by State