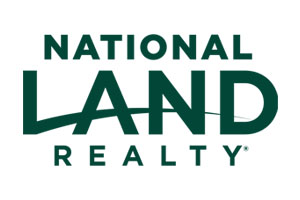 Close
Contact Valorie Vietti
Fill out the form to the right and click "Send" to contact Valorie.
Valorie Vietti joined the National Land Realty team in February 2021. Valorie spent her early childhood growing up in northeast Georgia where her family raised beef, poultry, and swine. She learned at an early age the meaning of hard work and dedication to a job while maintaining the systems in their farming operation as her daily chores. After moving to Oklahoma for her high school years she then found herself firmly planted in Kansas in the late 90's. Prior to joining our winning tradition at National Land Realty, Valorie spent the previous 15 years working in the banking industry. Serving as Vice President she acted as a lending officer and bank development coordinator. Her experience in loan processing can be a valuable asset to those who have questions during their buying and selling experience. Valorie served on the Chanute Chamber of Commerce for 5 years and was Co-Chairman of the local Ducks Unlimited chapter for 3 years.
When not working on finding you the property of your dreams Valorie loves all things outdoors. If you can't catch Valorie sharing a duck blind or tree stand with her husband you can often see her running and training for her next race. Valorie has completed one full marathon and multiple half marathons. When the Georgia Bulldogs football team is on TV be cautious you don't block the screen or you might catch a shoe to the back of your head, she is passionate about her Dawgs!
Valorie currently resides in Chanute, KS, with her husband Tim who is a local firefighter and her best friend and hunting buddy. Together they share four adult children who are all starting their own life adventures. Valorie understands the meaning of developing relationships and walking away not just customers, but also friends. Contact Valorie today to find out what National Land Realty can offer you.
Very fast response. Professional courtesy at its best.
– Neola E. (June 15, 2022)
Very professional, helpful and friendly!!
– Nadene E. (June 15, 2022)
She was always very friendly and knowledgeable.
– Janice G. (May 19, 2022)
– Daryl S. (April 22, 2022)
Tim + Val were very professional and knowledgeable of the market from the get go. They were open, honest, and had uplifting positive attitudes through the entire process. We especially loved that they brought their side by side to take perspective buyers on a tour of the land. 10/10 would recommend these two to sell your property, because that's exactly what they'll do!
– Meg S. (April 21, 2022)
Valorie and Tim were both very helpful. They were spot on with pricing to sell as well as making an offer to buy. Home buying/selling is a very stressful process and these two were there for every up & down!!
– Grace M. (February 19, 2022)
I couldn't have asked for a more amazing realtor! So helpful, so patient, so willing to explain everything along the way. Thank you so much for everything you've done for me and my family!
– Taylor D. (February 18, 2022)
Tim and Valorie were a HUGE help to my fiancé and I in buying our first house! They are both great company, easy to talk to, and answer any questions you may have along the way. I highly recommend them if you are looking to purchase a house and turn it into a home!
– Emma B. (December 16, 2021)
Tim & Val Vietti really know their stuff. Their mix of knowledge of real estate and the outdoors makes them the perfect agents to help anyone looking for land. And they are great people that you'll call friends on top of all that. I highly recommend Tim, Val and National Land Realty.
– Casey L. (September 30, 2021)
The Vietti's are a great couple that love lending a helping hand wherever they can and that directly transitions into their work for National Land Realty. If you need to buy, sell, or are just looking for any sort of advice regarding real estate, they would be more than accommodating.
– Dalton W. (September 30, 2021)
Valorie was great to work with. Made the whole process very easy and straight forward. Took care of everything. I couldn't be happier
Highly recommended!
– Petra T. (September 30, 2021)
Land by State
Land Professionals by State