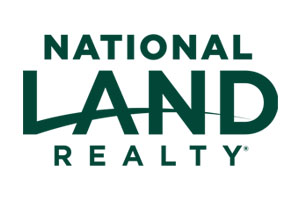 Tom Monaghan joined National Land Realty in 2018. Tom has over 40 years of personal experience in real estate – buying, selling and managing land. Tom has also served in numerous roles that have helped him develop his knowledge and passion for land such as Soil Conservationist with the United States Department of Agriculture (USDA), Farm Manager, Wildlife Biologist with the US Forest Service, Faculty and Extension Leader with the Mississippi State University Department of Forestry, Program Coordinator with the Mississippi Forestry Association, State Coordinator with the MS Sustainable Forestry Initiative, and State Administrator with the MS Tree Farm Program. 
Tom received his bachelor's, master's, and doctorate degrees from Mississippi State University. He also brings over 30 years of experience assessing the needs of landowners and professionals and developing educational programs to meet those needs. As Extension Leader for the MSU Dept of Forestry, he directed and coordinated the development of short courses, workshops, field days, demonstrations, publications, newsletters, and other programs in all aspects of forest and natural resource management. He personally specialized in forest taxation, management, marketing, and economics.
Tom and his wife, Sharon, have two adult children and five granddaughters. Tom enjoys deer hunting (when he has time), managing his own land and traveling out West.
Tom Monaghan was extremely communicative and easy to reach to answer any questions at all times. His advice and support throughout closing was invaluable. He was polite, available, friendly, and very knowledgeable. I could not have sold my property without him. I highly recommend Tom Monaghan.
– Elizabeth E S. (March 13, 2023)
I would strongly recommend and suggest that you use Dustin Clardy for all your land related needs. He was very professional, knowledgeable, helpful and personable in my experience with him. He knows what he is doing and will guide you through the process with kindness and compassion. You won't be disappointed when you work with Dustin Clardy.
– Manfred S. (January 12, 2023)
Professional, friendly and knowledgeable about all aspects.
– Deryl S. (January 12, 2023)
– Charles J. (November 10, 2022)
– Samuel J. (November 03, 2022)
– Angie M. (October 17, 2022)
My real estate transaction with Tom Monoghan was, by far, the easiest transaction I've been involved in! He did all the work and it was seamless.
– Pamela S. (October 17, 2022)
– Angela A. (September 28, 2022)
Tom was courteous and kept me advised all along. The property sold more quickly than I had expected.
– Lilley S. (July 26, 2022)
– Kathy L. (April 11, 2022)
I could not have had a better agent than Tom Monighan. He was with me from the start and worked diligently for 7 months to narrow down and find the best suitable property for my needs. He answered and addressed each question, concern and process through the hundreds of properties I found and then narrowed them to the few which fit my budget, location needs. Tom also searched for properties and talked w/ other agents and land owners to further narrow the search.
Closing went very well and it was one of the best experiences of my life to finally end up with the property.
In closing this out I want to again thank Tom personally for his time and professional expertise and patience as he guided me through the purchase. He deserves Agent of the Year.
Sincerely, John L. Reynolds
– John R. (January 09, 2022)
Mr. Monaghan maintained contact with us all along the way with the sale of our land. He was always available for any concerns we had.
– Kathy T. (May 11, 2021)
Wonderful service from Tom Monaghan from the start to the sale of this property. Tom was always available when he was needed for information and advice. I have recommended your company several times to friends of mine and hope they will be able to use Tom for their agent. Our family has nothing but praise for his work.
– Dyann H. (April 29, 2021)
Tom Monaghan was excellent and very satisfied with National Land Realty.
– Charles G. (January 13, 2021)
– Randy R. (October 13, 2020)
– Barbara S. (May 15, 2020)
We are well pleased with agent Tom.
– Jacob H. (July 01, 2019)
Tom was very personable and professional. I enjoyed getting to know him and would recommend him to my friends and family.
– Earl S. (July 01, 2019)
– Nathan L. (July 01, 2019)
Land by State
Land Professionals by State