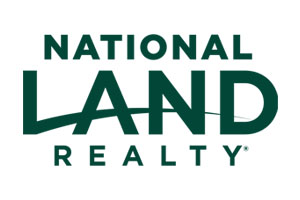 Born and raised in the midlands of South Carolina in Calhoun County, Tom has always had a great appreciation for the outdoors. From his earliest memories of riding around his family's farm with his father and grandfather, he was taught to appreciate the outdoors, be a steward to the land and preserve the natural beauty of his wonderful state. He attended the University of South Carolina and earned a Bachelor of Science degree in biology from Charleston Southern University. Tom later attended the Charleston School of Law and spent twelve years working in the legal field in the beautiful city of Charleston. After spending all that time in an office, he jumped at the opportunity to get back in the field and joined the team at National Land Realty. His legal background brings a unique skill set and excellent negotiation skills to the land brokerage business, enabling him to better serve his clients.
When not busy selling or finding the right property for his clients, you can find Tom hunting, working bird dogs, supporting high school football on Fridays in the fall, coaching the Calhoun Academy varsity baseball team in the spring, and last but certainly not least, spending time with his wife Lauren and trying to keep up with his daughters, Ellie and Mary Collins.
Very professional. Since we lived out of state, he returned calls right away and always had answers for our questions. I would recommend him.
– Rosemary R. (December 30, 2022)
Tom Culclasure was my agent and he followed up on my every call and was enthusiastic about selling my property. I listed with Tom and it was a little more than a week he had a buyer. Thank you, Tom, for your great service.
– Maxine C. (March 31, 2021)
Edward and Tom were both very professional and great at negotiating with the buyer! We really appreciate all their efforts! Highly recommend!
– Kerri and Gene B. (October 11, 2020)
– Shannon M. (September 17, 2018)
– James P. (February 02, 2018)
It was a pleasure working with Tom. All of our needs were met. Excellent service.
– Henry J. (November 22, 2017)
– Thomas B. (May 01, 2017)
As I am not a resident of the county or even state where the property was sold, I feel the agent did a great job on keeping the listing "visible" and getting the property sold. This is the primary reason for the sell. If the listing is not kept in mind it gets lost in the stack of other listings. I feel there must have been something the agent saw in the property as worth while and therefore, kept at it.
– Leslie S. (April 02, 2017)
He met me on my schedule.... and did everything he could to facilitate the deal..... frankly it would not have gone through with out him

– lawrence s. (March 31, 2017)
– Lee S. (March 16, 2017)
As out of staters, we spent several months contacting South Carolina realty agents and viewing land. Tom Culclasure was by far one of the most attentive and helpful agents we dealt with. We would gladly recommend him to anyone looking for land in the area.
– James/Denise T. (December 28, 2016)
– LORI S. (October 17, 2016)
I cannot thank Tom enough for helping our family sell our family's property in South Carolina. He was very professional, caring, personable and excellent to deal with. I would highly recommend Tom to anyone looking to sell their property. I had the best experience ever. Easy to work with.
– Hilda H. (July 23, 2016)
Tom took the time to explain the negotiation process and kept us informed as to what was going on, even when nothing was happening.(I am a stickler for communication.)
When time came to negotiate, Tom represented our interest with trust and integrity. At the start of representing our interest, he listened to our wishes and accommodated them as much as he could. (We can be demanding at times.) His overall personality matched with ours, making for a team effort that would win.
I would recommend Tom to anyone who is thinking of selling their land.
Thank you, Tom, for helping us achieve results!
-Jerry B.
– Jerry Bilton B. (July 14, 2016)
– Gary . (April 15, 2016)
Land by State
Land Professionals by State