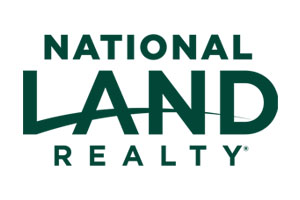 Seth Thompson is a premier land professional, specializing in helping others sell and buy land in North Alabama. His real estate experience in the land industry, technical knowledge and personal experience provides clients with professional all-inclusive service.
Seth obtained his Bachelor's Degree in Geographic Information Systems and a minor in Business Management from the University of North Alabama. It was here he studied and took courses in forest stand dynamics and watersheds. Seth obtained his GIS Certificate and Certified Remote Pilots license from the FAA.
Before joining National Land Realty, Seth was a land agent with Great Southern Land. As Great Southern Lands North Alabama agent, he helped clients buy and landowners sell land. Here he gained the knowledge and experience of not only the real estate market but also the land industry. Seth also worked with one of the Shoals most productive brokerages, CRC Realty in Florence AL. as a Realtor®. Here he served in the Shoals Association of Realtors as one of the top land specialists in the Shoals MLS.
Seth made topographic and hydrographic maps for the military for 5 years. He then went on to provide professional GIS consulting for various Alabama state agencies such as the Alabama Forestry Commission, Natural Resources Conservation Service, National Weather Service, Medicaid, Alabama Law Enforcement Agency and the United States Geological Survey.
Seth's experience gives him a unique advantage for marketing properties and helping buyers see the potential in a piece of property. He has served as the GIS Administrator for the City of Florence and owns Shoals Drone Solutions LLC, which specializes in drone mapping and aerial services for landowners.
Seth is from Florence AL. and married to Amy Daugherty Thompson with three sons. They live on their 320-acre farm, managing the timber and wildlife, outside of Florence. He is an avid hunter and outdoorsman. He loves helping clients sell properties, as well as, helping them find the perfect place to start creating priceless memories with their family and friends.
Whether you are looking to buy or sell, you can rest assured that Seth Thompson will guide you with ease throughout the entire process with a level of personalized service that far exceeds your expectations.
Seth was very professional and honest. He was patient and worked through our transaction representing both our needs as the buyer and the sellers needs alike. Thanks Seth!
– Randall T. (January 12, 2022)
Professionalism, Quality, Responsiveness, Value
– Jamey M. (May 20, 2021)
If you need a real estate agent, look no further than Seth Thompson. He was professional, courteous, and we highly recommend his services without hesitation. Please do yourself a favor and allow him to help you buy or sell. You will be so happy you did, as we are.
– Dr. Lindsay E. (April 23, 2021)
Seth was a pleasure to work with. Helped us at every stage of the process. He is very knowledgeable and up to date with the latest real estate technologies to help you reach the largest market of potential buyers. Will definitely do business with him again, highly recommend.
– Ricky O. (March 25, 2021)
Seth was really great to work with. Very professional and proactive. Highly recommend!
– Denis F. (October 19, 2020)
My wife saw a property listed on the internet and Seth Thompson was the listing agent. Seth responded to my initial e-mail within minutes and provided more information than I requested. All the information was relevant and needed. Seth made it very easy for my wife and I to see the property and was very helpful during the offer and acceptance process. He was also instrumental in working with the surveyor and the closing agent. I have already recommended him to others and look forward to continuing our relationship as we work through the process of preparing the land for construction. Also, Seth will be the agent I use when I begin the search for our next property.
– Jim B. (September 17, 2020)
Thank you so much to Seth Thompson for his professional service and quick sale on my property. He was always available for questions, he handled all matters quickly, and found wonderful buyers. Thank you Seth for all your hard work
– Myra L. (September 16, 2020)
Great experience with Seth! Sold and closed within couple of days!
– Adam I. (August 04, 2020)
We can't thank Seth enough for helping us with our recent land purchase. He was very helpful and knowledgeable and guided us through the whole process. In the future we plan to use Seth again for all of our real estate needs!
– Matt H. (August 04, 2020)
This guy is the most helpful professional realtor I have ever worked with. I highly recommend him for any of your real estate needs. He goes above and beyond.
– Tamsy W. (August 04, 2020)
Seth Thompson was very professional and very helpful when we were selling our land! He is very kind and helpful with any questions throughout the whole process! I would recommend him any day!
– Tyler J. (July 28, 2020)
My experience with Seth Thompson was one of excellent service, and a realtor that was very knowledgeable about agricultural and hunting land in Alabama. He was very professional, and very responsive to texts and communication. He handled the closing process extremely well for me.
Overall, I would certainly give him 5 stars , and would call him again for land needs.
If you are looking for a motivated and knowledgeable realtor to look for land with, then I would definitely recommend you contact Seth Thompson.
– Dr. Stephen H. (July 26, 2020)
Seth Thompson helped us tremendously with the sale of our land in Alabama! He walked us through the process every step of the way!
– Karen J. (July 24, 2020)
Seth Thompson sold a piece of property for me in Colbert County this year and did a fantastic job. Very responsible, always helpful, went above and beyond, and used a drone to take great photos of my property. The ad looked professional, and the property sold quick. Thanks for all your hard work.
– RV M. (July 24, 2020)
Seth Thompson is a great, honest person to work with!! Seth went the extra mile to get great pictures of my property with his drone and advertise it. He took care of everything and kept me updated on the progress. He will work hard for you and get you the best possible price. He researched what properties sold for in my area and let me know my land was worth almost twice as much as I thought! He reached out to local farmers and I couldn't believe how fast my property sold!! Seth also made sure the closing fit to my schedule, which was a huge help. We reached out to Seth again when we were ready to start looking for a house with some land and once again, he went above and beyond by taking in every detail of what we wanted and needed to fit our family and provided us with several options almost immediately. He would give us his honest opinion when we were viewing the properties, whether it was good or bad, which we greatly appreciated. Seth Thompson is the most honest and dependable person we have had the opportunity to work with and I would highly recommend him to anyone.
– Jeffrey G. (July 24, 2020)
Land by State
Land Professionals by State