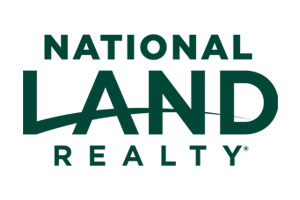 Pat (he/him/his) is a retired U.S. Air Force officer, active Rotarian, and manages Western NC land brokerage for National Land Realty. Clients hire him to help them navigate difficult land transactions, which he does through a consultative team approach. This includes research, analysis, and collaboration with trusted vendors and experts, all executed with skillful project management to keep transactions on schedule.
Pat was ranked #9 out of over 21,132 regional REALTORs in total Land Sales for 2021 and ranked #12 in the nation for National Land Realty brokers that year.
For Seller Clients: Pat invests in every client with unmatched national advertising tailored to appeal to the most likely buyers with a team of professionals who ensure properties have the best exposure.
For Buyer Clients: He devotes time to educating and empowering them to make decisions based on market trends, conservation, timber, land use, legal concerns, and other factors important to land buyers.
Pat is a Certified Negotiations Expert, REALTOR Land Institute Member, and on the board of directors of the Rotary Club of Asheville and EcoForesters (a non-profit focused on sustainable forestry practices and protecting the native Appalachian landscape).
Pat Snyder did an incredible job selling a difficult piece of property for me. He was knowledgeable and professional, exceeding my expectations. His excellent video presentation of the property involved much research and presented the unique history to the potential buyer in an informative and creative manner. Pat's patience and reassuring personality continuously helped me overcome my doubts during the sale of the property. I definitely recommend Pat Snyder and his company to anyone wanting to buy or sell land.
– Sandra W. (January 23, 2023)
Pat Snyder went above and beyond the entire process. One of the most knowledgeable about the area, what to expect, what to look for, and guided us along the way. Can't say enough about the job he did, he made this happen!
– Josh W. (November 08, 2022)
I've worked with Pat Snyder on a couple of purchases over the past three years and couldn't be happier. He has always been very quick to respond to any request and is a true professional in every sense.
– Chad W. (July 25, 2022)
Pat was so helpful in our land purchase. We had to travel from out of state to see the property, and he took us around to each lot. He prepared packets with descriptions of each parcel, and he walked around with us pointing out the various plants and wildlife.

He helped us through each step of the due diligence process and made it much easier than it could have been. As first time land buyers, this was the part we understood the least. I was relieved to have a skilled professional like Pat to help us.

He was very prompt in responding to all our e-mail and calls, and he was extremely thorough in providing answers. He is very knowledgeable about the area, which was very helpful for us as out of towners.

At no point did I feel any pressure to make a decision or buy any particular parcel. He made the entire process very easy for us. I enthusiastically recommend him if you're looking for land in Western NC.
– Taisha A. (January 27, 2022)
Pat is incredibly knowledgeable and an amazing asset to those folks looking to get land in Western North Carolina. He was absolutely above and beyond in this process and provided insight, references, and contacts throughout the process. Highly recommended!!!
– Bogdan G. (January 10, 2022)
Pat Snyder is very knowledgeable and always willing to assist in any way possible. Stays in contact and keeps you updated regularly. Very personable. He is highly respected by other agents.
We highly recommend Pat Snyder for your needs
– Susan P. (November 08, 2021)
Pat has been amazing to me throughout my search for property in the North Carolina area. He listened and helped me find my dream place to move. I'm so grateful to him!
– Jody R. (October 14, 2021)
We are so thankful to have met and worked with Pat Snyder!! His knowledge of the land, expertise in the buying process and commitment to helping us find our dream property was exceptional. He was patient, informative and honest which gave us confidence in our decisions. It was clear to us from the beginning down to signing the last papers at the attorneys office that he had our best interest in mind! We love Pat
– Kristen P. (August 20, 2021)
We were very happy with Pat Snyder's professionalism during the entire process of selling our 164+/- tract of land with 2 log homes in western NC. He had seen the property last year, but didn't feel it was the right time to sell such a unique property. He approached us this year again when the market was favorable, and found a well-matched buyer. His attention to detail and responsiveness during the whole process was stellar. We couldn't recommend him and National Land more highly!
– Thomas G. (August 13, 2021)
Pat Snyder, the agent, was very knowledgeable, helpful and responsive. He was thorough and went out of his way to make sure the closing went as smoothly as possible. Very professional and respectful.
– Jim W. (June 15, 2021)
I have bought and sold many properties in my life but
Pat Snyder may be the best realtor/broker I have ever had the pleasure to work with. I followed his advice and got good value for the property I was selling. Thanks again Pat.
– David M. (May 08, 2021)
We had a great experience dealing with Pat Snyder of National Land Realty. He was attentive and organized. It truly helped the entire process from putting an offer in to closing. He was always responsive and helpful! We highly recommend him!

– Connor L. (May 06, 2021)
Pat Snyder negotiated the sale of my 19+ acre land, and he did an exemplary job of it. I was truly amazed at how he kept an eye out for a former horse pasture that would easily overgrow if left unattended. He hung in whenever a difficulty arose after the contract and saw it through to the very end. I am happy with his work and highly recommend his services.
– Nancie L. (March 11, 2021)
– Cynthia E. (October 01, 2020)
I am very pleased with this Agency. I have worked with Pat Snyder on three separate land purchases and have been impressed with his professionalism, response, and understanding of the details important to me when considering land acquisitions. I will continue to work with him and would highly recommend him to anyone looking to buy or sell land.
– Robert R. (May 18, 2020)
Wanted to share our unbelievable experience with this realty company and the gentleman we were lucky enough to contact. If i could leave more stars i would. We are planning to move our entire family and we had picked a couple of areas that we thought would work for us. One of the most difficult things about looking at other states is finding a realtor that you are comfortable with and one that works to understand your goals and desires. I had my Daughter research, first to come up with an area, and second, to find a realtor to work with. The gentleman we contacted was Pat Schneider from National Land Realty, my daughter and Pat did all of the planning, all of the discussions, set up the meet to view multiple vacant properties in a 3 day period. We shared what we were looking to do, he went to work! Pat sent us a list of properties to view online over the next 3 weeks, he listed pros and cons for each property based on our criteria. Lengthy, important facts and descriptions of every listing he sent us, amazing effort had go into the review and knowledge of each property. He was well versed on 80% of the listings and if he didnt know a property he researched and found out info for us. The day we met, Pat spent an entire day with us, he had carefully planned the order in which we viewed the properties, based on our desires and the information we gave of our plan. It was a lot to take in, but the way he laid out the day made a huge impact on our final decision. The 2nd day was a lot of the same, but the final property was the property that did it for all of us. You would think his job was done at that point, not so, he spent the next month tracking down information from county, city, and state to assure a solid purchase on our part. I cannot stress enough how excellent our experience was. His knowledge of the area is off the charts. He has knowledge of the vendors/contractors in the area, all of them excellent! I will close by saying that Patrick made this new venture in our life seem like it was supposed to happen! Bill, from Chicagoland
– William S. (January 18, 2020)
Pat did an outstanding job for my sister and I. Our property showed more in the 6 months he had it, than in the last several years. He kept us updated and informed and sold it in record time. I can't say enough good things about him and his service. He is outstanding to work with!
– Linda S. (January 18, 2020)
We found Pat via a internet search for realtors that specialize in the sale of land. We had acreage that we had attempted to sell for four years. He is a veteran of the Armed Services, a family man, honest and forthcoming. He advertised our acreage nation wide, had a video from a drone that was superbly done. We had more interest in our property in the first month than in the previous four years. And he helped us achieve our goal of selling the property. He is a five star Realtor!!
– Lisa R. (January 18, 2020)
Having purchased homes/property in SC, Alaska, Texas and NC, we can confidently say that Pat Snyder is the greatest land or real estate agent we have ever worked with. Not only did he find us the perfect 95 acres and cabin during our first search, but his knowledge of the area and commitment to clients led to his making us aware of an adjoining parcel that came on the market a few months after our initial closing. He helped us navigate the second purchase as professionally and attentively as the first. We can't wait to work with Pat again and trust him explicitly when it comes to evaluating property in Western NC.
– Elizabeth B. (September 09, 2019)
Pat Snyder helped us sell a piece of land in Asheville, NC. It was a challenging undertaking that required establishing legal paperwork, coordinating with the heirs and staying persistence on the case for over two years. Pat always provided detailed information on questions and/or issues we faced and provided status updates frequently. Without Pat we probably would have still been in the market. He truly earned his commission!
– Parvin W. (May 17, 2019)
Pat Snyder is very helpful and has great communication skills. Grateful to have worked with him

– Erika H. (May 17, 2019)
From conducting initial searches to showing us properties over a holiday weekend to assisting with what was a bit of a difficult closing, our land broker Pat Snyder was helpful, knowledgeable, professional and accommodating. We cannot recommend Pat highly enough!
– Liz B. (May 01, 2019)
Pat Snyder worked tirelessly to secure a piece of land outside of Brevard,NC. He worked with us over a year to find what we wanted. His professionalism and promptness helped us greatly in our search for the perfect plot to build on. I would recommend him to anyone looking to buy land in the Asheville area.
– Matthew M. (April 17, 2019)
Our buyer's agent Pat represented our interests professionally and worked hard to close our contract on time and to our satisfaction. His professionalism exceeded all of our expectations and we will recommend him without reservations to anyone seeking land in western NC.
– Amy C. (October 23, 2018)
Pat was very thorough and responsive to all requests.
– Kim S. (October 12, 2018)
Before we found Pat our search for our dream home with acreage in the hills of Western North Carolina proved to be a little more challenging than we'd expected. It became evident that we needed a partner who really understood the nuances of our goals and could educate and direct us on local land and agriculture. After extensive search we were so grateful to have found Pat. It was apparent through the listings he shared after our first conversation that he really understood our 'need' list but never abandoned our 'wish' list. While walking properties with Pat he was thoroughly prepared and able to answer questions regarding agriculture, forestry, local resources, local culture etc. You name it, he had the answer or found the answer.

Pat was always professional, courteous and timely in all communications. We ended up falling in love with one of the first properties he shared with us. it had everything we wanted and much more. it happened to be a foreclosure which had many unique challenges, even beyond those of the typical foreclosure. Pat stayed attentive, thorough, flexible, patient and courteous during the whole process. He worked diligently to expedite anything in his control and he stayed positive when things got tough.

We couldn't imagine a better experience in purchasing real estate, let alone the tricky process of acquiring large acreage under foreclosure. Today we walk our beautiful farm in awe. We still can't believe we live in this wondrous place and we truly couldn't have done it without Pat. that may sound dramatic but it's absolutely 100 percent true.

– kristan s. (September 20, 2018)
Pat Snyder was extremely professional, knowledgeable and responsive. I never felt pressured to look at something or buy and Pat knew a TON about the types of land and areas around Asheville. From our first interaction to the closing (today!) Pat was extremely responsive to my emails, texts, and calls. I could always rely on him to guide me through this process (it's my first time buying) and to answer my questions or find the answers if he did not know them right away. If I know anyone who is looking to buy land in the area I will not hesitate to recommend him.
– Erica H. (September 10, 2018)
Anyone who is the market for a great real estate agent should contact Pat Snyder with National Land Realty. I recently had the opportunity to work with Pat on a land purchase and he did a really great job of advising on the land markets and also offering guidance on the initial offering. He was responsive and made very good recommendations for surveyors, soil studies and attorneys.
– Jennifer M. (July 25, 2018)
Pat Snyder was the best realtor we have ever used. He is friendly, patient, accommodated our schedule, & quickly replied to our questions. He is very knowledgeable about the area, land, local vegetation and animals. He exemplified professionalism and integrity. We will most definitely recommend him to others.
– Kim N. (May 23, 2018)
Pat helped us search for and buy our home in Asheville, and if we had to do it all over I wouldn't hesitate to use him as our agent again. His knowledge of the process, suggestions of all the things to watch for and consider that we never would have thought of, his help with negotiations, and his superhuman patience really eased the journey for us, and we ended up with a house that we love in a great neighborhood. You can't do better than Pat.
– Doug N. (April 10, 2018)
A real professional. Easy to work with who always went the extra mile. After having sold 16 homes through the years , Pat is on the top of my list of brokers. 5 stars all the way
– Robert D. (February 09, 2018)
Pat was a real pleasure to work with, a gentleman at all times. We feel that he was a perfect match for us. He listened to our wants and needs concerning our house search and he guided through the selection process. He helped with all the issues that came up during the processes of selection, negotiation and closing. Pat has contacted us after the closing to visit and to make sure that all our needs were met. Thank you, Pat, for putting in the extra effort that made the house selection and purchase a pleasant experience for us.
– Lamar L. (February 09, 2018)
We have only excellent things to say about Pat Snyder. As first time home buyers, he was extremely patient and thorough with educating us about the process and answering all of our questions. He was very efficient and organized at completing all of the various inspections, paperwork, and other assorted jobs. He gave honest advice. He thought of everything. He helped us find our dream home.
– Ellen M. (February 09, 2018)
Land by State
Land Professionals by State