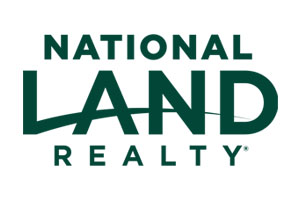 Landon Reeves joined the National Land Realty team in February 2021. He previously worked as a Wildlife Officer for the Tennessee Wildlife Resources Agency for 6 years. Prior to that, he acted as a lands manager and biologist for multiple private landowners in Tennessee for 7 years. As a lifelong outdoorsman, wildlife steward, and entrepreneur, Landon has a specialized approach when evaluating recreational and timber tracts of land in West Virginia. Additionally, he is experienced with facilitating tax deferred 1031 exchange transactions while representing both buyers and sellers. Ultimately, Landon is well-versed in all aspects of land, including but not limited to timber, oil, gas, and coal throughout West Virginia. His knowledge base is an invaluable asset that benefits all clients whether they are buyers or sellers. 
Landon received his bachelor's degree in wildlife and fisheries management with a minor in forestry from the University of Tennessee. He is actively involved in the National Wild Turkey Federation (NWTF) and the Quality Deer Management (QDMA) in West Virginia. Landon currently resides in Jane Lew, WV. When he is not working, Landon enjoys hiking, hunting, fishing, training hunting dogs, as well as managing personal real estate investments. At the end of the day his primary objective is to successfully assist each client, whether buying or selling property, with everything possibly needed for each transaction.  
– Mike U. (September 12, 2023)
Landon was quick to respond to my phone calls and address any concerns I had going into purchase of property. He was helpful in giving me helpful contacts for future timber sale as well. I look forward to doing more business with him in the future.
– Josef M. (May 22, 2023)
Overall, the quality of service was excellent and incredibly smooth. Any issues that came up were quickly resolved. It was a low stress transaction and I would highly recommend using Landon Reeves. In fact, I already have made the recommendation to friends.
– Patrick O. (March 02, 2023)
I contacted Landon in April of 2022. He returned my call while he was in Greece on vacation. We talked several times about properties, and I explained I would be traveling until September. Once my travels were complete, I booked a hotel in Clarksburg and Landon scheduled a couple of homes to look at. We made an offer on the second house and after a few hiccups, we closed in November. Landon even took us to the airport for an unplanned trip. Thank you for everything.
– Brian H. (December 29, 2022)
– Salomon C. (December 27, 2022)
Landon did a spectacular job. Most definitely we will be doing more business with him. Very knowledgeable and most of all, he gets things moving even on a short notice.
– Salomon C. (October 12, 2022)
I have had many land and or farm transactions in both buying and selling during the last 25 years and my agent on this transaction, Landon Reeves was by far the hardest working and most professional throughout the entire process. I would highly recommend Mr. Reeves and look forward to dealing with him in the future!
– Charles K. (August 17, 2022)
Landon was extremely helpful throughout the entire process. Dealing with 6 people from 3 different could have had many challenges, but our experience went very smoothly. Thank you so much.
– Linda M. (August 16, 2022)
Landon was the BEST realtor and could not have been any better! I knew I found the right realtor based on his honesty, friendliness, and down-to-earth-no-frills approach. I trusted him wholeheartedly, and relied on him and his opinion in my property purchase. Landon definitely went the extra mile for me, and I could not be happier! Thanks, Landon!
– Kerrie B. (June 11, 2022)
Landon did an A+ job. If I have a friend with any land sale needs, I'll refer to Landon. Great Job!
– Paul S. (April 26, 2022)
We couldn't have asked for a better experience with Landon at National Land Realty. Landon went well beyond the duties of a realtor and helped us find exactly what we were looking for. He made several trips to the property, met with the seller, and local contractors for us as we live in Texas and couldn't make the trip each time. We just closed on our property last week and couldn't have done it with him. Would highly recommend.
– Daniel J. (November 19, 2021)
Landon did an excellent job selling my land. He always kept me informed on what was going on. The most important thing was he was honest with me. I was a motivated seller and wanted to sell within 30 days. He told me it would take about 120 days, and it took about 110. Also, if he didn't know the answer to one of my questions, he would tell me, "I don't know, but I will get you the answer " and he would. That was a big positive in my book. If or when I ever choose to buy land in WV, I will definitely be hitting Landon up. I would always recommend him to my friends. If I could give him 10 stars, I would.
– Daniel C. (August 30, 2021)
Land by State
Land Professionals by State