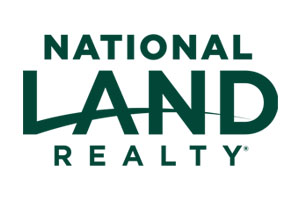 Kraig Moore joined National Land Realty in 2018. Kraig has 20 years of real estate experience with a strong background in forestry.  This allows him to know and appraise the marketable timber on each farm. Kraig received his bachelor's degree in forest management from Southern Illinois University in 1989.  During college he gained valuable experience working for the U.S. Corps of Engineers as a park ranger, and the Missouri Department of Conservation as a field forester.  Following college he worked for the U.S Forest Service in Alaska, Pennsylvania, and Alabama followed by a three year stint with the Kentucky Division of Forestry.  Soon after, he started a private consulting forestry business specializing in timber marking and marketing, forest inventory and appraisal, and timber trespass investigations.  He continues to market and sell timber today. 
He is involved with the Association of Consulting Foresters of America Inc., Kentucky Woodland Owners Association and the Kentucky Forest Industry Association. He also previously served as past president of the Forestry Club in college, Kentucky Association of Consulting Foresters, and as past president of the Barren River Chapter of the Quality Deer Management Association. 
Kraig loves to work on his farm, managing it for recreation, hunting, and timber production. He enjoys turkey and bow hunting and has a passion for anything that has a motor in it.  Kraig and his wife, Beth Ann have four children: Alex, Kerrick, David, and Eli.  His youngest son Eli will be joining him in 2023 as a forester.  They also have a lab named Laddie who spends a lot of time with him on his farm.
Kraig is a great guy. Enjoyed working with him to get this property sold. Thanks!
– Philip W. (July 25, 2023)
Very nice and considerate. We had great communication and he took a lot of time with us.
– Mary H. (December 02, 2022)
– Beth Ann M. (August 10, 2022)
Kraig was awesome. We were very comfortable with him as our agent. He did his job so well our property sold in 11 days !!! Thank you Kraig for everything.

Terry and Pamela Hoffmann
– Terry H. (January 03, 2022)
He did everything well and we gained a new friend in the process!
– Ora R. (September 21, 2020)
04/12/2019
4:11pm Les Neville Great experience with land and timber sales. NLR Agent Review Form

– . (September 18, 2019)
He sold my property at a great price! He kept me posted as to the sale. He kept me posted as to issues.
– Dwight B. (September 04, 2019)
While I am his son, I can say honestly my dad works hard to do the best for his clients. I worked for him one summer and his hard work blew me out of the water, I couldn't keep up.



– eli M. (June 28, 2019)
Kraig Moore is the hardest working man I know. He is honest, kind, and very knowledgeable about forestry and land management. He truly cares about his client's needs and objectives. I feel lucky to be married to him! :-)
– Beth Ann M. (June 28, 2019)
Kraig is very professional and was wonderful to work with on our recent purchase. His knowledge and experience proved to be very beneficial.
– Todd H. (April 12, 2019)
Great experience with land and timber sales.
– Les N. (April 12, 2019)
Land by State
Land Professionals by State