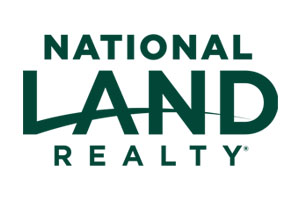 Jennifer Woodson joined National Land Realty in 2019. Jennifer is a Land Nerd and has real estate licenses in GA, FL, SC, and AL.  Jennifer has over 20 years of experience and education in a variety of industries including engineering, business, mining, and forestry. She has worked with several different organizations such as Forest Resource Consultants, Imerys, IMC Phosphates, and Gordon State College.
Jennifer has a bachelor's degree in chemical engineering from Georgia Tech, an MBA from the University of Florida, and a master's degree in forest resources from Mississippi State University where she completed her graduate research paper comparing the impact (financial and impact on CO2 emissions) of using land in Georgia/Florida for various land uses (solar cells, growing timber, and various ag products).
When she's not working, you can find Jennifer spending time with her husband and three children or dabbling in some of her hobbies which include college football, Legos, puzzles, hiking, running, and cycling.
Jennifer is very friendly and helpful. She's a not too pushy, but available. She has a good personality. My wife, Deanna and I trusted her. As a Christian, it is important to me to work (buy) through someone who exhibits "integrity". Keep up the good work! Thanks, (Phil 1:6) Randal D Reese
– Randal R. (August 08, 2022)
– David F. Lewis L. (June 20, 2022)
Jennifer was very knowledgeable about the market and was always ready for my concerns and questions
– Mitzi S. (January 06, 2022)
Jennifer is so knowledgeable and a triple threat: a forester, an engineer, and a professor! She really listens to her clients and then scours available land tracts to make sure to find her clients exactly what they are looking for with their land purchase. I highly recommend working with Jennifer for your land purchasing needs!
– Jennifer T. (June 21, 2021)
Jennifer has the background to know land is more than trees and dirt. Her engineering and forestry knowledge and degrees give her perspective that she puts to work for you. She also is not high pressure and will always answer your questions in a friendly way, and manner you can understand. Land is a good investment and Jennifer will be the one to steer you in the right direction.
– Steve M. (June 20, 2021)
Jennifer was awesome! She is very professional and knowledgeable of the properties she showed us. Hope to do business with her again.
– Martin S. (June 20, 2021)
Jennifer is one of the best. She is professional, responsive and knows buying and selling land. She will give you all the data you need to make an informed decision about your interested property.
– Doug D. (June 20, 2021)
Jennifer and her team at National Land are the best of the best! She is trustworthy and her knowledge of timber and overall land is superior. I highly recommend her.
– Madison M. (June 20, 2021)
Jennifer is absolutely wonderful! She listened to what we were looking for and made it happen! Very productive and awesome customer service! We would highly recommend her for your needs! She is very professional and thorough with her work and her personality!
– Nicki P. (June 14, 2021)
– Tim P. (April 05, 2021)
– Joanne V. (February 25, 2021)
Jennifer was very professional and knowledgeable. She was polite and courteous, and able to answer all my questions. I was amazed at how quickly she found a buyer who accepted the asking price without requesting negotiations.
– Carl P. (December 09, 2020)
Jennifer Woodson was professional. She answered all our questions in a timely manner.
– Mitchell S. (October 01, 2020)
Had a great experience with Jennifer Woodson! She went above and beyond!
– Konnie D. (September 24, 2020)
Jennifer Woodson is the best you will ever find. She helped me and my wife find the perfect piece of land. Showing up countless times walking property nights, weekends and followed up through until the final day of closing. Then, made a surprise visit and rode around on the land with us. We absolutely love her great attitude. :)
– Jeff D. (September 08, 2020)
Land by State
Land Professionals by State