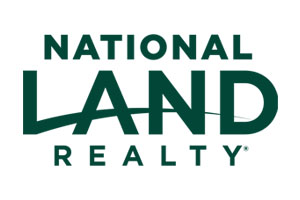 Living his entire life in the Carolinas, Jason grew up in rural Sheldon, SC (Beaufort County) on his family's farm. It was there that he developed his love for the outdoors. He graduated from Clemson University with a B.S. in Agricultural Economics. Jason began his real estate career in 1999 and has been with National Land Realty since its inception in 2007. He has served NLR in multiple leadership roles such as president, executive vice president as well as broker-in-charge of both the Greenville and Columbia offices in South Carolina.
Jason currently serves as an Elder at Eastminster Presbyterian Church. He has served as Chairman of the South Carolina Wildlife Federation and Nant'an of F3 Columbia. Jason and his wife, Ashley, live in Columbia, SC along with their 3 boys, John Colin, Graham, and Thomas.
I follow National Land's listings regularly for recreational and large-tract listings in South Carolina and the western North Carolina mountains. They have the most comprehensive inventory and detailed information on each. You can practically imagine yourself there. I've known Jason Burbage for several years and can attest to his character and integrity. I would not hesitate to list my property with him, or to call him for my next land purchase.
– Chris J. (April 05, 2019)
Jason's been a great resource to me in turning up southern forest land from my location in Maryland. The website has been very helpful in shortening the search cycle and narrowing the choices for investment opportunities. A highly recommended place to start your exploration!
– Harvey B. (April 05, 2019)
I've worked with Jason Burbage on a variety of projects over the years. His mix of intelligence and altruism is a rare commodity. He's a guy who looks out for people first. I couldn't recommend more highly.
– Austin J. (April 05, 2019)
– Bill G. (March 12, 2018)
Was on time at every meeting. Showed property to a number of folks. Always returned phone calls if he didn't answer when I called. Sold my property in a timely manner.
Thanks again
Rocky Smith
– Rocky S. (February 26, 2018)
– Richard P. (January 19, 2018)
– Shana S. (September 01, 2017)
We listed our property on June 1, 2017, signed a contract on June 26th, and closed on July 13th. Our agent, Jason Burbage, was very knowledgeable, professional, and efficient in handling the sale We will recommend him highly to anyone who needs to sell their land.
– Betty H. (July 14, 2017)
The guys at national Land Realty in Columbia are fantastic! Jason Burbage and Tyler Stone are highly knowledgeable about land and timber packages, rural land for hunting, farming, and investment. Have worked on several successful land/timber transactions with these guys and have nothing but great things to say about them. Very personable, easy to work with, and get-it-done and get-it-done right attitudes. I would highly recommend them to anyone looking for property!
– Gary B. (June 16, 2017)
Jason Burbage did a fantastic job marketing and selling our property. His extensive knowledge in land sales, negotiating the real estate transaction and professionalism really showed through the entire sales process. Highly recommend Jason at National Land Realty!!
– King W. (May 31, 2017)
It was great working with Jason Burbage at NLR. My wife and I have been wanting to buy land for years before we purchased over 100 acres in Aiken County, South Carolina. Jason was a great help. He connected us with someone who could help with financing and made the entire process seem amazingly simple (compared to what we were expecting). He was honest, knowledgeable, and attentive.
– Michael M. (May 31, 2017)
Jason Burbage was very helpful in assisting us with our questions about purchasing land. He is extremely knowledgeable and it is clear that he loves what he does. He was diligent in showing land as it became available and his follow up is excellent. We highly recommend him!
– Joni R. (May 31, 2017)
When we were in the process of looking to make a significant investment in some timber property Jason Burbage with National Land Realty was instrumental in locating, showing, and contracting for our purchase of a sizeable tract of pine timber in Barnwell County. He is a consummate professional who listened carefully to our desire for a piece of property that would provide a lasting legacy for our family, and then located a number of tracts which met our requirements. Jason is highly knowledgeable and completely trustworthy and we recommend him most highly.
– Tom L. (May 16, 2017)
– W.C S. (April 19, 2017)
Prompt in returning phone calls.
– Horace L. (November 30, 2016)
Jason was very professional.
– Genevieve B. (November 17, 2016)
Jason got the property sold very quickly, and was great to work with. There are no complaints, nor recommendations for what he could have done better. It was flawless.
– Charles W. (November 05, 2016)
Jason Burbage did an excellent job for me. He made everything uncomplicated. He was so nice and a joy to work with
– Nora W. (October 24, 2016)
We are proud to have Jason Burbage as primary agent for Hound Hollow Equestrian Community, located in the "Hunt Country" area of Kershaw County, near Camden, South Carolina. Jason is well liked by both Buyers and Sellers for his competence, friendly manner, and integrity. I personally admire the effort he puts into qualifying Buyers' needs and preferences ahead of time to respect their time and make land-buying an easy process.
– Bill G. (June 09, 2016)
Excellent service in selling property of my mother's estate.
– Martha S. (March 15, 2016)
– William G. (February 04, 2016)
Jason Burbage did an outstanding job in informing me on the specifics regarding the property I purchased. He kept me informed throughout the negotiation process. He went the extra mile to ensure the site survey was completed beyond my expectations. Jason arranged for a very smooth closing with the attorney Jackie Busbee's office. I could not be more pleased with his professionalism and assistance.
– Kenneth M. (January 29, 2016)
– Lawrence S. (January 04, 2016)
– Rhett B. (January 04, 2016)
Jason Burbage, was very friendly and personable, he had that down home attitude.
I certainly would recommend your company again.

thanks Mike Baxter
– mike b. (December 22, 2015)
Land by State
Land Professionals by State