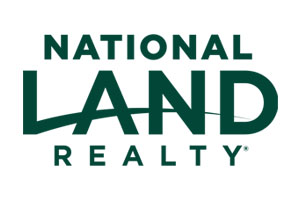 Gregory Ford joined the National Land Realty team of Land Professionals in April 2022. Gregory brings with him a wealth of real estate experience from his time working for Keller Williams Platinum and Midwest Land Group. Gregory also worked for Ashfield Pharma, Portola Pharma, and Sanofi. He received his Bachelor of Business Administration in accounting as well as his Master of Business Administration in management from Northeast Louisiana University. Gregory has a passion for rural lands and loves to help folks find their next farm or ranch. He is an active member of the Edmonds First Baptist Church and spends his free time enjoying the outdoors simply appreciating all of God's creation. Gregory and his wife, Marla, are based out of the Oklahoma City area, where they enjoy spending time with their three children, Jarrett, Brady, and Will, and their seven grandchildren.
Greg was very helpful and I appreciate all the work he did on making this deal close. If we ever sell, it will be with him.
– Justin B. (January 06, 2023)
– Frederick C. (December 29, 2022)
I have known and dealt with Greg Ford for many years. He has always been very professional as well as very detailed as to how he may be helping. His honesty and forthright attitude is always appreciated in this current time. I would recommend him to anyone that I know to deliver above and beyond service.
– David L. (September 12, 2022)
I recently bought 3 acres of land in Oklahoma using National Land Realty. GREG FORD was the 1st person to return my call.

I was a 1st time home buyer AND I was out of state, so I was freaking out about everything I researched online. I spent 2 weeks calling realtors, but many would not return my call/email, were too far away, seemed not very knowledgeable about land, had little experience as a realtor, and they randomly tossed links at me to click on instead of asking what I wanted.

Greg returned my call very quickly, and during our first conversation, I was relieved when I saw that he actually cared about what I wanted to buy. He asked ME what I wanted instead of trying to tell me what I should get, and his overall tone was very pleasant. I didn't get the feeling that I was wasting his time, asking too many questions or just another quick buck.

I had a list of 3 properties that I liked. My 1st choice had been taken while I was searching for a realtor, so I was worried that my 2nd choice would be taken before I could make an offer. Greg was able to explain the process quickly and in a way that I could understand. He immediately went to the property to get drone footage so that I could see not just the land, but everything around it as well. The drone footage was from all angles and I loved seeing what was around the property. He called the listing agent and got all of the information I requested, and as soon as all the details were good, the offer was sent and accepted.

Even with all of the research I did, I still had a ton of questions, all of which Greg answered immediately and gave me search terms so that I could look things up myself. Any concerns I had about the process were explained and I was able to fix my "idealized" understanding of how everything was supposed to go. This helped me focus more energy on important matters instead of processes that didn't apply to my contract. Building the contract was equally breezy. Greg made sure EVERYTHING was taken care of IMMEDIATELY. Any time I saw a typo, he corrected it on the spot and sent it. He got everything in order and made sure I received all paperwork as soon as he got it.

After the contract was laid out, all we had to do was wait for the title company. He recommended a great title company, "Old Republic Title," which funnily enough I had already researched prior. Hearing that he had experience with them made me want to use them more. They did everything very quickly and we finished the process weeks early. Any time I had questions they would answer them and a few of the ladies even went over all the paperwork with me during and afterward so that I understood everything.

If you are buying land, especially if you are a first time buyer, and even if you are out of state, Greg is perfect for you. He will explain everything in an easy to understand way. He's very polite and is fun to joke around with, which helps relieve a lot of tension if you are worried about any potential problems. He never makes you feel like you're wasting his time or like you're just another quick dollar. He makes sure he understands what YOU want, and he makes sure to get everything done and keep you updated AS SOON AS he is updated.

And icing on the cake, even though I have purchased this plot of land, I'm not able to move right now. Greg offered to check on the property occasionally for me until I'm actually able to move. I was really worried that someone might start dumping trash, but it's nice to know that I can put my worries to rest until I get out there. You can't put your faith in a better realtor.
1
(September 12, 2022)
Land by State
Land Professionals by State