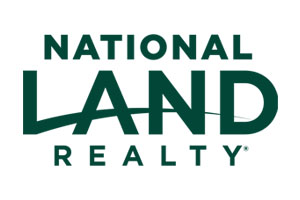 Growing up on the Coosa River in Shelby County, Gabe Goodson has spent most of his life appreciating being in the woods and on the water. Gabe transitioned that passion of the outdoors to land sales by joining National Land Realty in 2020. With a background in property management he has acquired knowledge in negotiation and sales. Gabe has been able to merge over a decade in property management with his love for the outdoors since joining NLR. Gabe has a keen eye for wildlife habitat and for clients seeking recreational land. Having the acquired knowledge in land development he is able to understand the full potential of any property. Gabe Specializes in listing farm, ranch, hunting, recreation, timber, development, and commercial properties. 
A graduate of Troy University, Gabe is active with the Coosa River Keepers and Ducks Unlimited. Gabe, his wife Lisa, and their two children Ava & Cole reside in Birmingham, where the avid outdoorsman enjoys hunting, fishing, photography, and all things baseball.
My wife and I worked with Gabe Goodson on a property in Shelby County. He met us there several times and walked the entire property with me in the rain. He gave us great advice on purchasing the land and answered lots of questions in a very timely manner.
– Rickey G. (February 17, 2022)
My wife and I recently were looking for a property that fit our budget that we could develop for our horses. Gabe Goodson really came through for use as we explored several options. We found a wonderful property with Gabe's professional assistance. He kept our needs in mind and was forthright and essential with pros and cons of each property. We would go to Gabe for any future need.
– DeWayne H. (February 15, 2022)
Gabe Goodson was a pleasure to work. Always had the info we asked for and was always available. Thank you for helping us get our dream property
– Skip W. (January 19, 2022)
I purchased a piece of land I had been wanting for almost 30 years. I discovered it was for sale and contacted Gabe by email and he was very responsive and professional. He made the entire process very easy and kept me updated on everything I needed to do and when. I liked the fact we were able to do everything through email communication especially since I have a bad hearing loss.
– Ben D. (July 06, 2021)
Gabe Goodson is easily among my favorite land agents or realtors that I've ever worked with. He is transparent, responds quickly, and is genuinely interested in making sure that he treats his clients well during the process. Gabe and National Land Realty were very professional and easy to work with. Would recommend Gabe to anyone looking to purchase land.
– Eric P. (February 25, 2021)
I have thoroughly enjoyed getting to know Gabe Goodson. He has a wealth of land knowledge and has high standards for his customer service delivery. He has viewed woodland with me and provided lots of insight that I had not thought of. I highly recommend him as a land realtor. You won't be disappointed.
– Ruwena H. (February 25, 2021)
Gabe is such a great partner and is doing amazing work for his clients. He is always finding news ways to market/sell his properties. He knows how to get the job done. You can't go wrong with Gabe!
– Missy H. (February 25, 2021)
Gabe Goodson and National Land Realty were beyond valuable to me. Gabe was very professional and extremely knowledgeable in what to look for when purchasing land. He was persistent, attentive to detail and went above and beyond our expectations time and time again. We are blessed and grateful that our paths crossed.
– Jessica G. (July 21, 2020)
– Christina S. (June 23, 2020)
Gabe Goodson has been a pleasure to work with. I am a Professional Land Surveyor who deals with Realtors on a daily basis, and Gabe really seems to care for his clients and is a joy to work with. I look forward to working with him more in the future.
– Steven C. (June 22, 2020)
Land by State
Land Professionals by State