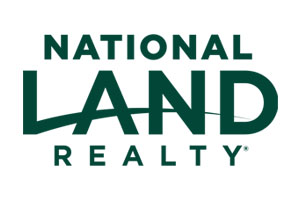 Dale recently joined National Land Realty after working with the Alabama Forestry Commission. He retired from the AFC after 25 years of service as a County Forester and later as a Work Unit Manager over several counties. Dale received his B.S in Forest Management from Auburn University and is a Registered Forester in Alabama, Certified Prescribed Burn Manager, and a Certified Inspector for tree farms, Forest Stewardship, and Alabama TREASURE Forest Programs.
Dale lives in Montgomery, AL, with his wife Clemice, and their two boys, Brandon and Beaty. In his spare time, Dale enjoys hunting, fishing, and watching college football. He also joined his brother as a 4th generation pecan buyer with his family's business, Hurst Pecan Company.
Dale Hurst did an excellent job in selling my timber land. He always returned my calls, was professional, addressed all issues and questions I had concerning the land, and he made sure that I was satisfied with every aspect in selling the land. I highly recommend Dale to others who are trying to sell their farm and timber land.

– James T. (July 16, 2021)
Mab Segrest
a day ago
Positive: Professionalism, Quality, Responsiveness, Value
Dale Hurst did a terrific job marketing 25 acres of wooded land in Alabama. He priced it well and I got three offers the first week. Dale always answered my calls, made an initial visit soon after my call to assess the property, gave excellent guidance and advice at various points, and we got full price. I highly recommend him.

– Mab S. (February 08, 2021)
Positive: Professionalism, Quality, Responsiveness
Dale Hurst is the man! He was our agent on the recent purchase of our land and definitely stayed on top of things for us and was very helpful. He was there helping work out the kinks through this Covid mess and his recommendations helped tremendously!! He went above and beyond for us and we couldn't be more grateful!

– . (September 10, 2020)
Professionalism

– Markese G. (July 23, 2020)
Professionalism, Responsiveness. Dale Hurst was professional, attentive, knowledgeable and most of all, patient in the process searching out the best piece of property for the value expected. I would recommend Dale and the entire team at National Land Realty whether you are looking to purchase or sell property.

– Scott M. (July 23, 2020)
Professionalism, Quality, Responsiveness, Value. Dale was very professional, easy to communicate with and helped us sell a residential lot. Thanks Dale!

– Taylor N. (July 23, 2020)
Dale Hurst was very helpful. Would recommend him to anyone.


– Joseph P. (October 02, 2019)
– Mike S. (September 14, 2019)
He was very professional in every respect.
– Winston C. (September 11, 2019)
5 stars would not be good enough for Dale Hurst with National Land Realty. He is persevering, honest, sincere and professional in his successful efforts to sell our property which had some unique issues to overcome to make the sale work. Highly recommend.
– Margaret C. (August 01, 2019)
Worked with Dale on the purchase of a large tract of land. Dale was very knowledgeable and helpful in working through some timber lease issues. Would recommend National Land Realty and Dale Hurst to anyone looking to purchase property.
– Stinson S. (July 30, 2019)
Dale is professional with exceptional patience and perseverance. These qualities enabled him to close a property that had many obstacles.
– Tom R. (May 02, 2019)
I have known Dale Hurst for over 20 years and he has always been trustworthy, professional, and reliable. I would highly recommend him for all of my real estate needs.
– Melanie G. (May 02, 2019)
Pamela Pickett
1 review

★★★★★ a day ago
Dale Hurst is persistent in getting the job done!
– Pamela P. (April 17, 2019)
I was very pleased.
– Winston C. (September 10, 2018)
Land by State
Land Professionals by State