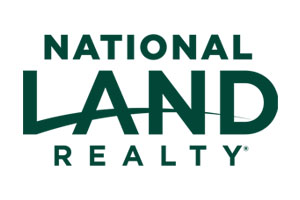 Clif Holloman joined National Land Realty in 2018. In 2019, Clif's first full year with National Land Realty, he was one of the top 5 producers in North Carolina. Clif was a top 5 sales producer in North Carolina in 2021. He is a member of the REALTORS® Land Institute (RLI) and one of the few agents who have earned the Accredited Land Consultant (ALC) Designation. ALCs are land professionals who are the most prestigious, most experienced, and highest-performing land sales experts. Clif was named to the 2021 and 2022 APEX Producers Club by the RLI. He specializes in the sale, acquisition, and assemblage of agricultural, recreational, timberland, and transitional properties, as well as the tax advantages of owning, buying, or selling land.
Clif is an Eastern North Carolina native that grew up in Johnston County and brings an abundance of passion and knowledge to the land sales market. He grew up in the Boy Scouts and became an Eagle Scout at an early age. He knows how to create a mutual trust between himself, buyers, and sellers, that is based on integrity, honesty, and fairness. He attended North Carolina State University where he earned a degree in biological sciences in 2012 and completed his master's degree in business administration (MBA) at the University of Mount Olive in 2018.
Clif is an avid sportsman and conservationist. He loves deer hunting, turkey hunting, waterfowl hunting, and other outdoor adventures. He has traveled from central North Carolina to the coast hunting, as well as in other states. Clif currently resides in Selma, North Carolina with his wife Brooke, daughter Ella James, chocolate lab Piper, and black lab Lou.
– Joey C. (August 14, 2023)
For several years, I have been looking for the perfect tract of land to enjoy with my son's and grandsons. I reached out to Clif Holloman with National Land Realty regarding a listing I saw online. After a few weeks of ironing out the details, the property was closed. If you are looking for land, this organization is the one to go with. Reach out to Clif or other members of their TEAM....Great folks.
– Daniel E. (March 23, 2023)
I had a great experience with the sale of my property by this company and my agent, Clifton Holloman. Property was listed and sold within a month. I would definitely recommend!
– Kathryn S. (September 30, 2022)
– Lloyd M. (May 18, 2022)
– Travis F. (January 27, 2022)
– Danny C. (January 10, 2022)
– Billy L. (January 04, 2022)
Clif Holloman helped me recently buy a piece of land next to my land. He was always responsive and helped me through the process.
I look forward to working with Clif again in the near future.
– Charles P. (June 17, 2021)
We had a terrific experience with our agent Clifton Holloman! He remained the consummate professional in spite of having to deal with multiple family dynamics in our family. He was determined to help us find a buyer for our farm and he did. Just cannot brag on him enough!! A totally fantastic young man!!
– Debbe K. (June 17, 2021)
Clifton was extremely helpful and honest throughout the process of finding land to buy. He made it stress free because of his responsiveness and knowledge of who to work through as well as what was required.
– Nathan M. (April 21, 2021)
Clif was so responsive and even when on vacation he found time to give a quick update. He was so helpful and easy to deal with, at all times. He is a wonderful agent!!
– Andrew D. (April 20, 2021)
Clif Holloman was professional from beginning to end. The sale of our property began before my husband passed away and quite a few legal situations ensued, with Mr. Holloman assisting at every turn. In addition to that, I live out of state and that was another hurdle. I would highly recommend National Land Realty and Clif Holloman!
– Nancy B. (April 13, 2021)
We cannot say enough good things about Clif Holloman. He was responsive, helpful, answered all our questions and went above and beyond in every way to make sure our land buying process went as smoothly as it could. I would not hesitate to recommend Clif and his firm to anyone I know looking to buy land. Top notch in every way, and we are very appreciative of his help.
– Catherine D. (April 12, 2021)
– Danny C. (March 31, 2021)
Clif helped us buy our farm below in 2019 and we were so impressed we asked him to sell our residence when we moved to the farm. Through Clif's efforts and marketing we had a qualified contract in 11 days. Consistency is the best way to describe working with him and National Land Realty. We received the same excellent support selling our home as we did buying our farm. I would highly recommend National Land Realty and Clif Holloman, give him a call.
– Jeff M. (March 25, 2021)
Although we did not personally hire Clifton, he was selling a piece of land we bought and was very informative. He kept in touch with us and was quick to answer any questions we had through the process.
– Mason S. (March 25, 2021)
I first approached National Land about a property they had listed, but it did not turn out to be a fit for us. Their team took it upon themselves to search the market for our dream property and we were able to find exactly what we were looking for. Clif was relentless in his efforts and it was a very professional and efficient experience. If you are looking to buy or sell land, NLR has the unmatched network and resources to make it happen!
– Will S. (March 25, 2021)
Excellent job by our agent Clif Holloman! He went above and beyond throughout the process! Thanks, again!
– Joey C. (January 29, 2021)
5 stars
– James I. (December 28, 2020)
Excellent service . Will recommend and use again.

thanks,

Donnie Lassiter
– donnie l. (September 21, 2020)
– Danny C. (August 20, 2020)
Everything.

Clif was up to date on all activity and in constant contact with me during every inquiry on my property. Clif made the process easy and streamline. There were no surprises at any time during the sale.

Thanks Clif
– Victor H. (August 13, 2020)
He has been very prompt and we intend to use him again very soon.
– Danny C. (May 14, 2020)
Cliff was very professional in his handling the sale of my property. His efficiency led to a rapid response and we had an acceptable offer in just weeks. Even though closing took some time, he kept me informed of what was going on to the best of his knowledge. I would use him again if the need were to arise. I will definitely recommend him to friends.
– Mary Ann L. (January 27, 2019)
Clifton Holloman was our land broker. Best land broker, hands down. Very helpful and knowledgeable. Worked with him 4 months. He was available anytime, to research, answer questions, get the job done. He excels in his duties as a land broker and did everything in his power to help make our transaction go as smoothly as possible. It was an extreme pleasure having him represent us.
– Susan M. (January 21, 2019)
Clifton Holloman was our Land Broker and we couldn't have been happier. He worked tirelessly for us with the seller and through some difficult survey issues. Clif is dedicated to his clients and understands the market, matching parcels to the clients wants and needs. He is great to work with, communicates regularly and gets the job done. I would highly recommend National Land Realty and Clif Holloman, give him a call.
– Jeffrey M. (January 21, 2019)
Any questions we had no matter the time of day. Clif was on top of it and trying to best explain some of the situations we had no idea about. Clif was very helpful when we wanted to see a house. He got on the phone and made calls right then. First class agent and helpful to his customers and helps them get the best out of the house.
– James G. (January 04, 2019)
– Kylie B. (January 03, 2019)
Land by State
Land Professionals by State