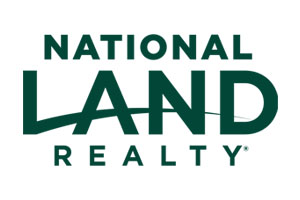 Chuck was born and raised in southwest Virginia in the Blue Ridge Mountains. His ancestors settled in the Virginia and North Carolina mountains in the early 1700s, where they prospered as livestock farmers. So, it comes as no surprise that Chuck inherited a keen interest in the outdoors, mountain land, farming, and hunting.  After graduating from Virginia Commonwealth University with a B.S. in Marketing and Business Administration, Chuck had a successful IT sales career for over 20 years. In 2018 he decided to combine his sales and marketing talents with his love for the land and began his ever-growing career as a land professional and managing broker of the NLR Western Virginia office.
Chuck practices wildlife conservation on his own properties and offers a deep working knowledge in land improvement, wildlife habitat, and farm practices to his clients.
Chuck and his wife Lou Ann bought their first farm in Highland County, Virginia in 1996. They learned to farm, focusing on alternative, holistic grazing practices. They also bought and restored several additional farms over the next 15 years. They raised their son, Matt, on the farm, and in the small community of Monterey, VA. Their current farm, Riven Rock Farm, is a 100% grass-fed grazing operation, spread across 750 acres of mountain pastures.
Chuck has been active in the local Highland community serving as, a founding board member for the Highland Center, the Alleghany Agricultural Center Board, Highland Tourism Board, and as Director of Highland Little League. When not working with clients, Chuck enjoys farm projects with Lou Ann, hunting, hiking, and archery.
– scott s. (September 27, 2023)
Chuck is the best!
– Claude R. (August 24, 2023)
We are very pleased with our agent Chuck Neely. He answered all our questions patiently. He knew the property inside and outside.
This was an excellent experience.
– Robert W. (August 02, 2023)
Chuck did everything well! We could not have asked for or found a more knowledgeable agent. Chuck used every avenue available to sell our farm.
– Linda and Virgil W. (November 29, 2022)
He was honest, very friendly, helpful and up front with everything.
– Allen M. (September 23, 2022)
Chuck Neely is very professional and helpful. Truly someone who is willing to share his experience and knowledge with others. We appreciated his help with our recent land purchase. If there is a next time we would contact Chuck to assist.
– Elise B. (March 16, 2022)
Chuck provided superior service all around managing the sale of 182 acres in the Blue Grass Valley of Virginia.
He made good suggestions on maintenance to spruce up the property before listing, bush hogging the pastures and cleaning out the pond.
He used drones to capture aerial views, and marketed the property car and wide. We had a number of offers but waited for a buyer who could pay cash.
There were complications at closing because the property had been pledged to my bank to collateralize a loan that had been paid off several years earlier but title had not been cleared. Chuck helped to get the issues resolved and we were able to close with only a short delay.

Five Star performance

Buddy Steves

– Buddy S. (February 11, 2022)
Mitch Perry

Chuck Neely of the Bath/Highland Virginia office is top-notch. Chuck helped me find a once-in-a-lifetime opportunity for a tract of prime riverfront ag/rec land in Highland in a practically zero-inventory market! Chuck made understanding my requirements and constraints his first priority then took those conditions to successfully find exactly what I was looking for without wasting our mutual energy on properties that were not a fit. He was a great partner in my search from the day we first engaged until the day I took possession. As an agricultural, residential, and recreational landowner/operator himself, he gets the perspective of land sellers and buyer equally well. Can't recommend Chuck highly enough for farm and recreation property search and sales in the Virginia Highlands!!

– Mitch P. (February 07, 2022)
Frances Brinkley
1 review

Our office has worked with Chuck Neely on numerous occasions. He is quick to respond and quick to resolve any issues.
– Frances B. (February 07, 2022)
Chuck helped me find my dream hunting and fishing property! After a year of sending me potential properties via email that fit my search, he called me to say I had to see a farm with half mile of river footage. Two months later I was the proud owner of a beautiful farm with a fantastic trout stream with native brook and stocked rainbows. Chuck continues to assist me with contacts and property advice to better manage wildlife. It is without hesitation that I recommend Chuck Neely as your next real-estate consultant.
– Dan M. (December 27, 2021)
Land by State
Land Professionals by State