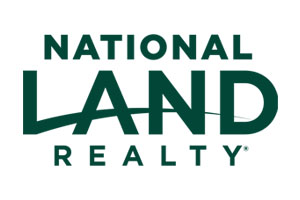 Chase Blalock joined National Land Realty in 2017. Chase is a business professional in marketing and business production. Over the last few years, he has built a clientele of business affiliates with his high-energy, enthusiastic personality, and drive for client satisfaction.
Before joining the NLR team, Chase spent several years in outdoor TV production with Hank Parker, a well-known professional bass fisherman and two-time winner of the Bassmaster Classic. Chase traveled around the country with Hank during this time, hunting and filming shows such as the Outdoor Channel's "Hank Parker's Flesh and Blood" and "Drop Zone TV," on a variety of property types. Through this opportunity, Chase was able to see how "blank canvases" of land could be developed into turnkey properties that were a true sportsman's paradise. His experience working in the television production industry gives him a unique ability to market properties through rapidly changing technology.
Chase attended Liberty University where he received a B.S. in Broadcast Communications with a minor in Journalism. In his spare time, you will find him hunting and fishing, and filming Hunting TV shows for the Outdoor Channel. He enjoys ranch life on his family's ranch and is a member of the Catawba Valley Cattlemen's Association. He is also a lifetime member of the Safari Club International. Chase currently lives in Mountain View, NC, with his wife and sons.
– Donald B. (August 29, 2023)
– Mark S. (August 15, 2023)
Thank you!
– James B. (November 23, 2022)
Chase did a great job at selling land. I really appreciate him. He really worked hard!
– Belinda S. (October 14, 2022)
Chase was a true professional throughout the process. I would recommend him to anyone looking to buy or sell land in NC.
– Hunter D. (March 30, 2022)
I rated Chase Blalock a 5 star agent based on the history of using him on five real estate sales. Sales have been in two different counties approximately four hours apart.
He has been willing to meet with me at each location and walk the property to look at the unique characteristics of each property (52 acres to 297 acres). He usually has a
previous contact that has indicated an interest in the type of land that he will be listing. Personal style is a big plus for Chase.
– Robert C. (March 23, 2022)
– Sandra S. (February 25, 2022)
Chase was invaluable to the buyer side even in his capacity as the seller's agent. It's clear Chase is very knowledgeable in land acquisitions, understands what buyers want and is able/willing to talk through the particulars making sure the piece matches the vision. He was available when needed and timely in following up with information and needed answers. I will use Chase again and will recommend him to anyone else pursuing a land purchase. Very satisfied with our experience.
– Jeff N. (January 06, 2022)
– Chuck J. (January 06, 2022)
Chase Blalock was our agent and he was extremely professional and knowledgeable about the property and procedural guidance. Chase will be my first call for future land deals. I'm very pleased, as is my partner, with the way Chase handled the transaction.
– Thomas D. (January 06, 2022)
I rated Chase Blalock as a 5 Star agent based on the experience I have had with him in selling four different properties that ranged from 54 acres to 230 acres. Each buyer had a different reason for purchasing the property and Chase was able to determine that reason early on in the process; therefore, it was a lot easier in reaching a negotiated sale price. His ability to be familiar with land values from the coast to the mountains is a tremendous asset for someone selling property away from their local area. I will continue to use Chase in future land sales.



– Robert C. (September 27, 2021)
Chase very helpful
– John C. (August 24, 2021)
Our agent was able to market our property in spite of some access difficulties. He has his own ATV to be able to get buyers to the property which helped to sell it for sure. Also he was very knowledgeable about the area.
– Hayden J. (August 23, 2021)
Understood my objective in selling the property and knew that owners of the property would have to agree on the price before listing the property.
Spent time on site with seller developing a marketing plan and using a drone to highlight the features such as fishing pond, grassy areas and timber.
Generated multiple interested clients in a short period of time. Received full price offer.
– Robert C. (June 24, 2021)
– Donald B. (June 21, 2021)
Great experience! Chase made the process very simple, easy and low stress while providing regular updates and detailed information. I look forward to working with him again in the near future.
– Jason M. (January 21, 2021)
– Mark S. (January 07, 2021)
– Adina K. (November 22, 2020)
Great service
– Kenneth K. (August 20, 2020)
– Mark S. (August 07, 2020)
Chase has been extremely good to work with. He knows the properties and understands the market.
– Douglas B. (July 13, 2020)
I have found Chase to be very knowledgeable regarding property for sale in Burke County. He has an interpersonal style that allows for ease of communication with the seller
and buyer regardless of their background or education. He has assisted me in identifying a construction contractor, surveyor and an attorney to perform work prior to the sale.
– Robert C. (September 16, 2019)
Chase was very aggressive in getting his signs up and listing the property. He stayed in touch with us and advised us when he was showing the property.Chase had our property sold about a month after listing it. I would recommend Chase Blalock and National Land Reality to my friends and family.
– Butch C. (August 28, 2018)
– Casey F. (August 24, 2018)
Five stars. I was impressed with Chase's ability to reach out to a buyer in Florida who was able to pay cash for my property. Also, this was accomplished in only a few months of having the listing. There were a couple of legal problems that Chase was able to work through with the help of my representative. Chase let me know what he needed from me, and he kept me informed of the progress every step of the way. Thanks, Chase, for a job well done!




– Jess P. (May 03, 2018)
Chase was doggedly persistent in getting the documents and information from the seller and others so that the sale could be completed successfully. He went way beyond what one would expect from a realtor on a transaction like this. He helped in finding services required to ensure the property was as represented by the seller, and helped the negotiations with the seller to reach an amicable solution. This transaction lingered for over three months because of some legal considerations, but he kept on top of every issue and followed them to the end.

I have worked with many realtors in the past, but Chase is clearly the type of individual you want to work with. He calls it like it is, and doesn't misrepresent the facts. No question, I will use him in the future.
– George M. (May 01, 2018)
Chase Blalock is the "real deal." He is honest and straightforward but didn't use high pressure tactics. His follow-up and communication was exactly what I expect from an agent representing me. Chase went the 'extra mile" for us. I highly recommend Chase.
– chad u. (April 07, 2018)
Chase Blalock was outstanding to work with throughout the entire process. He was responsive to our request, did his homework, and had all the toys to traverse the land.

Post the closure he has still been available to answer questions. He remembered that my wife was a vegan and was thoughtful enough to offer to make an extra stop so that she could have something to eat even when we were out in very remote areas.
– buddy w. (March 27, 2018)
Chase went out of his way to meet at a convenient time for us to look at the land & take care of paperwork. Very professional. Did what it took to keep us happy & make the best deal possible. Highly recommend.
– Mackensie W. (March 22, 2018)
He was very timely, knowledgeable, and personable. Would definitely use again.

– Kendra M. (March 22, 2018)
Very nice young man. I appreciate him helping me purchase the land and would recommend him to anyone..
– Robert Wycoff W. (March 21, 2018)
Chase is a true professional. He knows the items that need to be zeroed in on and gets to the end point quickly. He did an outstanding job on getting the information together to get the sale done in short order.
– James R. (March 12, 2018)
Land by State
Land Professionals by State