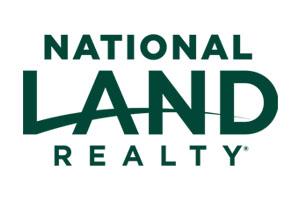 Cameron is a Land Broker for National Land Realty throughout the state of Georgia. He is a major producer in both the buying and selling sides of transactions for local and foreign clients in his service area. He has been in the land business since 2012 and is a licensed Broker in Georgia. Cameron specializes in the sale, acquisition, and assemblage of large agricultural, recreational, plantation, timberland, and conservation easement properties. Cameron also works closely with real estate developers of all industries and small acreage landowners to create markets for more niche properties.  Cameron is a graduate of the University of Georgia's Terry College of Business, where he received a degree in Business Marketing. Raised on the outskirts of Conyers, Georgia and the son of a home builder, he grew to be an avid hunter and outdoorsman from a young age. Cameron currently lives on Lake Oconee in Eatonton, Georgia with his wife and two children. He is active in the local community along with Ducks Unlimited, Georgia Wildlife Federation and the National Wild Turkey Federation.
Cameron did a fantastic job marketing our property. Large parcels are difficult to sell to begin with, and with Covid as an additional factor, we knew having a good online presence was going to be critical. The drone footage, interior photos, and land description were excellent and we sold our home to the third family to see it. We would highly recommend Cameron and National Land to our friends and family.
– Dawn S. (March 02, 2021)
As a first time seller, I had lots of questions. Cameron answered every single one. He explained the process from beginning to end, gave excellent advice, and stayed on top of things! We had multiple offers to choose from and Cameron helped us get the best results. Cameron deserves more than just a 5 star rating.... I'd give him a 10!
– Lisa L. (October 30, 2019)
Cameron was very efficient and helpful throughout the entire process.
– Toni B. (October 25, 2019)
Everything was excellent.
– Delvean M. (June 13, 2018)
Our land wasn't the easiest to sell. But, Cameron hung in there and gave us confidence that we would sell it.
I found him to be straight forward, honest, knowledgeable, and especially dependable. He always got back to us immediately.
It was a great experience.
– Sarah M. (May 17, 2018)
Cameron Smith is a very professional, experienced and polite agent. His knowledge of land, land use, habitat, recreational land and timber is exceptional. His knowledge and professionalism definately promoted the sale of the property.
– Don K. (March 21, 2018)
– mark d. (March 16, 2018)
Cameron did a great job! He was very communicative, efficient, and worked hard to help me sell my property!

Thank you!
– Christopher B. (March 14, 2018)
Very professional. Always got back promptly with any question we had. Marketing was great. Had offers quickly and Cameron did all the background work quite efficiently. Sold amazingly fast. Had closing lined up and went very smoothly. A pleasure to work with.
– Dana M. (February 28, 2018)
Cameron went over and above to push forward in getting purchase closed and walked thru entire process , from beginning to end, returned all calls and messages promptly
5 Star rating
– Tony C. (February 28, 2018)
Cameron Smith was very knowledge, friendly and prompt on returning phone calls... excellent agent
– Marjorie R. (February 14, 2018)
Our agent, Cameron Smith, did an excellent job of keeping us apprised of offers and counseling us on the value of the offer, wisdom of response to offer, and consequences of accepting or declining an offer. When we countered an offer, Cameron represented us well. Once we accepted an offer, Cameron kept everyone on track and motivated to take the necessary steps to meet the deadline of the closing. I can't say enough good things about Cameron Smith. He really went the extra mile to accomplish our goal.
– Christi R. (February 14, 2018)
Very nice personality & informative. Worked very hard to get results.
– Peggy W. (January 15, 2018)
Cameron is very knowledgeable and professional. He was invaluable in helping us find the right tract of land. We will definitely use him again.
– Jaime B. (August 24, 2017)
– Richard P. (February 24, 2017)
– Cameron A. (January 25, 2017)
We are happy with his service. Land sold. Closing easy. All questions answered along the way.
– Pramual S. (January 23, 2017)
Personal attention to detail, personal service, returns phone calls promptly.
– Bobby J. (January 22, 2017)
Cameron was great and did a fantastic job. Will definitely use him again.
– Roger S. (January 21, 2017)
– Stanley L. (January 20, 2017)
Cameron did a great job. He was knowledgeable about the property and answered any questions i had. Great service
– Buddy H. (December 06, 2016)
Cameron was a great agent to work with. He was very responsive to my needs and questions, as well as proactive in tracking down information about properties I was interested in. He offered a wealth of knowledge about the area in which I was looking for property. He provided me with a great list of contacts for financing, legal services and surveying. It was a pleasure to work with Cameron, and I would recommend his services to anyone looking for recreation, timber or farm land.
– Cody W. (September 08, 2016)
Our property was a very unique hunting property, including 240 acres, a lodge, a barn, and a stocked lake with a beautiful covered dock. The property was managed for hunting and for fishing. It had been on the market for over a year with very few showings with a different real estate company. Once it was listed with National Land Realty Cameron brought several verified buyers and was able to put together the deal that sold our property. We were very impressed with his ability to communicate with the buyers, and their bankers, attorneys etc. He is professional and worked very hard in his marketing of our home. The online presence as well as the printed materials were all very well done. Cameron worked closely with us and with the buyer throughout the sale. We were all very satisfied with his work. Cameron currently has another piece of property listed for us and we will continue to highly recommend Cameron Smith and National Land Realty.
– Kerri S. (August 28, 2016)
Cameron did an excellent job of keeping us informed of what was going on with our listing. He went over and beyond our expectations. I would recommend him and NLR without reservation to anyone seeking to sell property.
– Michael C Rogers R. (August 25, 2016)
Cameron Smith was a very good agent!
– Randy J. (December 23, 2015)
– darrin d. (December 03, 2015)
Land by State
Land Professionals by State