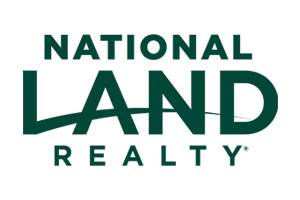 Caleb Risinger joined National Land Realty in 2019. Caleb served as a United States Naval Officer from 1999-2019. He earned his master's degree from the Naval War College and his bachelor's degree from the University of South Carolina - Aiken. Now as a Land Professional, Caleb shows great dedication to his clients and attention to detail with respect to marketing a property.
In his spare time, Caleb enjoys hunting with his English Pointer and Setter, fishing, and coaching/playing soccer. He is also passionate about his Christian faith. Caleb and his wife, Kristina, have five children. The family currently resides in Jacksonville, FL.
We worked with Caleb Risinger and had a great experience. Caleb was very knowledgable about land acquisition... the pros/cons/pitfalls etc..

He was also very organized and went above and beyond in helping us research and compare all opportuinites available.

We closed on a great property recently and certainly could not have done it without Caleb!
– Mark M. (April 05, 2023)
Caleb is a knowledgeable, insightful and honest agent. He also takes great pride in his work and hold it to high standards. What particularly makes him a rare gem is that he is clear about his own strengths and limits, and he plays to his strength. This is important as real estate is a big field, and I've seen so many others overpromise and ended up flopping both themselves and the clients.

If you are in need of rural land properties, especially with recreation/agriculture/timber purposes, Caleb is the go-to agent that will set you up for success!
– L Z. (March 17, 2023)
Caleb Risinger was 5 Star from beginning to closing. He was very professional and kept me informed. I would not hesitate to recommend him to anyone or to use him again if the opportunity arises!!!👍🏻👍🏻👍🏻
– Ron C. (January 23, 2023)
Caleb Risinger was extremely helpful during my search and purchase, he made the process of finding land and doing the due diligence being a buyer from out of state super easy. I'd recommend working with Caleb as he seemed to want the best for the buyer and not just to make a sale as most realtors I attempted to work with did. Caleb was knowledgeable and trusting.
– Erika C. (August 22, 2022)
Caleb was very helpful and patient. He worked very hard to get our lot sold and got the asking price. I will definitely recommend him.
– Frances D. (July 21, 2022)
Caleb worked diligently with professionalism and awesome communication throughout our transaction! Keep up the good work!
– Debra S. (July 07, 2022)
Wow.....My name is Michael Smith and my wife is Dondi Smith. Caleb Risinger was and will always be our agent when we need to buy any type of property. This GOD fearing Man has done something that you would definitely not expect out of any real estate agent or any profession for that matter.....What I mean is the customer service and the actual TRUE and BELIEVABLE ATTENTIVENESS that Caleb has show for Us....Now....my wife has been looking for 2 YEARS!!!! Now....Think about that for a minute??? This Gentleman has stood by my Wife and I that whole time and kept on keeping on so We could find Our Dream Property...And that is exactly what we did!! Caleb Risinger has so much knowledge and foresight and patience, that anyone that uses him to assist them on looking for property and then purchasing that property, who ever You may be.....You will be in a Agents hands that you will not regret using. WE give everyone our word (if possible) thru a review that this is something that you can believe and trust in. Caleb Risinger is first and foremost a Child of GOD...He is also Our Friend now and one heck of a Real Estate Agent....GOD BLESS YOU Caleb and Your Family!!
– Mike S. (May 21, 2022)
Caleb Risinger of National Land Realty did an excellent job helping to bring a challenging deal to closing. He always was very responsive and professional.
– Steven L. (March 23, 2022)
CALEB HAS BEEN A BLESSING. FOUND THE PROPERTY WE WANTED AND DID EVERYTHING FOR US. ALL WE HAD TO DO WAS SIGN THE PAPERS!! HE IS ONE IN A MILLION.....
– Sharon S. (December 20, 2021)
Caleb was a joy to work with. He showed patience and professionalism selling our land in Lawtey, Florida. Our property was landlocked, but that didn't scare Caleb away like the other four real estate agents I had called previously. He devised a plan, stuck with it, and ultimately, got it sold!
– Kevin S. (August 20, 2021)
I put my land in Starke Florida on the market based on valuable research provided to me by my agent Caleb Risinger. I was impressed by the professional and responsive manner Caleb conducted the sales effort. He kept me informed every step of the way throughout the sales process. Even though the land didn't sell right away, he never gave up trying and finally got it sold. I enjoyed working with Caleb and would recommend him to anyone who is serious about selling land.
(January 22, 2021)
Aaa service perfect in all regards
– Duncan H. (August 07, 2020)
It was a great pleasure to work with Caleb on our purchase. We closed the deal in 4 days. Caleb is hard working, very friendly, professional, highly recommended! Great job!
– Jeanne H. (July 24, 2020)
I currently own property in Florida, Germany and France. I have also bought and sold property in other states within the United States. Many years ago I was a licensed realtor in North Carolina. I have many friends and associates in the Real Estate business as both realtors and investors.
During my many years of property acquisition and sells, I have encountered a myriad of buyers and sellers, as well as those in the real estate profession and feel qualified to comment on my experience with Mr. Caleb Risinger.
It is seldom that I have met and done business with such an enthusiastic, friendly, helpful and total professional as Mr. Caleb Risinger.
I recently purchased a property that Mr Risinger was representing for the owner. I was operating under considerable time constraints as I was departing for Europe within a short time. Mr Risinger worked tirelessly on behalf of the seller and myself, as the buyer, to successfully complete the sell. His efforts included working with the seller who himself was outside the country at the time, and myself who was restricted to limited travel due to business and the Covid-19 restrictions.
In addition to his overall assistance, Mr. Risinger made three trips, over two hours each way, to personally assist me in successfully completing the transaction.
Unfortunately, it is rare in today's world to witness such dedication and helpfulness as that displayed by Mr. Risinger. To say I am happy with his service is an understatement. Well done, Mr. Risinger! Thank you.
– Roger M. (July 24, 2020)
Hello, my family and I had the pleasure of working with Caleb during a recent endeavor, and he was fantastic. I am always skeptical of people when I meet them, but especially people that are in sales because there are a lot of them that will tell you whatever you want to hear to make a sale. Well, that is not the case with Caleb. He was very forthcoming with information and had a truly honest approach to the entire evolution. I felt like he was a family friend by the end of our transaction, and he still continues to contact us to ensure we are happy with our purchase. If I could, I would give him a 10 star review. He is just an all around good guy. Would recommend him to anyone without hesitation.

Will Franklin
– Will F. (September 09, 2019)
Caleb Risinger is extremely knowledgeable and professional. Tireless worker that gets the job done!
– Gil G. (September 06, 2019)
Caleb Risinger has impeccable character and a tremendous work ethic. He is someone you can certainly trust to get the job done, and done right the first time!
– J F. (September 06, 2019)
Land by State
Land Professionals by State