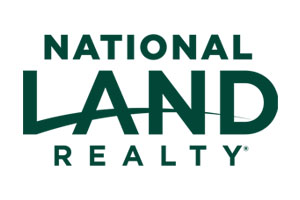 Brian started his career at National Land Realty in 2015 and has been in real estate since 2003. He has worked in land sales for Plum Creek Timber since 2007 and has worked all over the southeast. Brian has experience in timberland, farms, and undeveloped land, and is a CCIM candidate. Brian ensures his clients get the maximum value for their land by deciphering the highest and best use of each property. Brian has marketed land for its agricultural conversion potential and development potential. He also assisted in the sale of land to the federal, state, and local government or developers when their use brought a premium to current use. Over the past seven years, he has managed the sale of more than $200 million in land sales across the southeast.
Brian and his wife Heather live in Atlanta, Georgia with their two boys, Adam and Grant. Brian enjoys watching his sons play soccer, lacrosse, and basketball for their school teams and rec leagues. Brian is also a trained leader for his sons' boy scout troop and enjoys camping, hiking, and other outdoor activities with them and their troop. His other hobbies include golfing, hunting, and fishing.
This is the second time we have used National Land Realty. The agents answered all of our questions and on one of our properties, sold it very quickly for a great price. Our agents kept us informed about all updates and changes.
– Dana M. (August 30, 2022)
Brian was knowledgeable, responsive, kind, and best of all had our full trust.
– Lynda F. (April 19, 2021)
The buying process was smooth, no hitches. The agent helped work through the issues of me only purchasing a portion of the property and communicated well with me of all issues and possible issues.
– Jacob H. (April 07, 2019)
Brian Prusik was very professional and sold our property quickly.
– Lisa M. (March 17, 2019)
– Kieland M. (April 07, 2017)
Brian Prusik was a tremendous partner in the sale of this land. For a variety of reasons, none of which were connect to Brian or National Land Realty, this was a difficult sale and he made the process as professional as possible. We appreciate his help and knowledge. Thankfully we are not in a place in life that we will be ever selling property again but we would certainly recommend him to anyone we know who is.

Susan and Jim Little
– Susan-Jim L. (February 09, 2017)
Brian was very knowledgeable, professional, easy to talk to, with a pleasant personality. He could be easily reached by email, call or text. If he didn't answer his phone, he would call back quickly. He made the purchase very easy. I would highly recommend him to any of my friends or family. Brian was a joy to work with!
– Alice C. (December 14, 2016)
I received the letter. I responded and didn't expect a response. I got a telephone call from Brian Prusik, asking for more information and if he could "visit" the property. Of course! NEVER did I expect this to go any further! I knew this was NOT prime property but some we had inherited. Brian was wonderful! He kept me informed and understood (and was PATIENT!) as there were other family members involved in this sale. We were ALL flabbergasted when he called to get the final information for the contract. The whole process (from initial letter to closing check) went very quickly, smoothly. Brian always kept me informed as to what was happening and why. This process was painless! We had decided that we were going to have this albatross for years and years and years. We are SO happy! The land is sold! Brian was wonderful to work with. I'd do it again (IF I had property!). I can't say enough GOOD THINGS about Brian and this transaction! I would highly recommend Brian to anyone who could use his services!
– Cheryl D. (October 12, 2016)
Land by State
Land Professionals by State