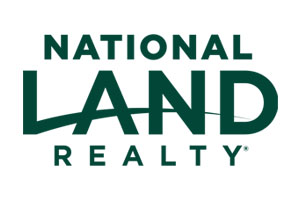 Bradley Wilson has been in land sales for four years. Before starting his career at National Land Realty in 2015, he was employed with Southeast Land Partners for two years and with Signor Farm & Ranch for two years, Bradley received his bachelors degree in Communications from University of Texas at Austin. His areas of expertise include customer service and interpersonal skills. Bradley believes that communication is key when working with his clients. In order to overcome the challenges of customer service, Bradley works closely with the clients interests and always makes himself available. 
Bradley, his wife Allison, his daughter Ava, and their German Shepard, Harper, currently reside in The Woodlands, TX. Bradley enjoys sports of every kind, mostly fishing and boating. He also enjoys traveling to numerous baseball parks around the country (minor, major, and college).
Always available, 24-7 for info and questions.
– Gary A. (April 21, 2021)
Bradley was very professional throughout the process. He kept us informed and was actively involved in promoting the property.
The initial video and marketing of the property was excellent and showed the potential of the land. We feel we got top dollar for
the property and would recommend Bradley to anyone buying or selling property.
Thank you
– Kevin M. (September 03, 2019)
5. This sale had a lot of hidden surprises. I thought that when I bought this property that the Veterans Land Board supervised the sale and handled all of the aspects of buying a piece of property. This turned out not to be the case, I was an unsophisticated buyer that relied heavily on the VLB and the local sales agent who was retired military and the purchase went smoothly. When I decided to sell we constantly ran up against problems that were supposed to have been taken care of during the purchase scenario BUT they weren't. Brad was a real trooper helping to overcome these problems because they caused a long unexpected delay which was frustrating. Brad marshaled through things and I believe that he ran into problems that he had only heard of before; so it was a good learning experience for all concerned. These were problems that were not anticipated basically due to the shoddy work that had not been done on the front end. Overall, I was pleased with Brad's performance and persistence - he should go into juggling..
– Neal A. (November 05, 2018)
All aspects of my experience with the sale of my property were excellent. I talked to two other real estate agents before contracting Bradley Wilson, your agent. Bradley lives in the same county (Montgomery) I live, but his knowledge of and his experience with Trinity County (county where my property is located, 90 miles away) surpassed the Trinity County agents' contacted by me previously. Together, we walked my property and other comparable properties in the area in order to set a reasonable starting price. He was ready and able to answer all the questions that I, as an unexperienced land seller, had!
– Emilio G. (September 14, 2018)
Sold my property quickly with no problems
– Dan M. (October 05, 2017)
Bradley was excellent help with everything
– Jared M. (May 17, 2016)
Land by State
Land Professionals by State