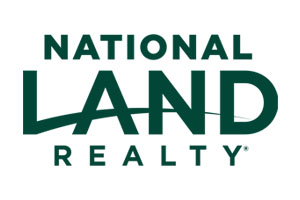 Close
Contact Joshua Christian
Fill out the form to the right and click "Send" to contact Joshua.
Joshua Christian joined National Land Realty in 2019. Joshua is a combat veteran of the U.S. Army who served as a cav/scout in the 101st Airborne Division and was an un-exploded ordinance technician with the U.S. Corp of Engineers before joining the NLR team. During his time in the Corp of Engineers, Joshua spent time doing land clearance and rehabilitation on various inactive and active bases and ranges throughout the country. As a young entrepreneur, he started a metal roofing company at the age of 18. This broad experience, coupled with his drive and perseverance, allows him to help clients of all types and from all walks of life.
Joshua is involved in several organizations such as the Farmer Veteran Coalition (FVC), Realtors Land Institute (RLI) and the National Deer Association. Some of his hobbies include deer hunting and hunting squirrels with his Kemmer Cur dog, Ruby. He and his family enjoy growing herbs and vegetables for the family table. Joshua and his wife, Lindsey, currently live in Loudon County, Tennessee, with their two little boys, Joshua Jr. and Asher.
Working with Joshua was a real pleasure. Throughout the entire process, he was responsive and helpful. I'd highly recommend him!
– Brian L. (December 27, 2021)
Joshua Christian was referred to us as the realtor to work with when purchasing land. He was the right man for the job! We hit it off from the beginning and he proved to be knowledgeable and professional. Ironing out any hiccups along the way, he made the purchase process smooth. We would highly recommend Joshua Christian for your land real estate needs.
– Jeremy & Nancy J. (November 18, 2021)
Joshua Christian and National Land Realty sold our property in Roane County. Joshua did an amazing job listing and selling our property in a very short time. Can't say enough good things about our experience. Highly recommend!!!!!
– Brenda W. (October 20, 2021)
From the moment I called to inquire until the moment I closed on my property, Joshua Christian was always available to answer any questions and help me through the process of purchasing my first property. I highly recommend his services and that of National Land Realty whenever you're ready to take that big step into home/land ownership! We purchased acreage and his expertise as a Land Professional made that possible and quick, which was a great relief in this chaotic market! Thanks, Josh!

-Nick and Yoanna
– Nicholas T. (August 13, 2021)
I loved how Joshua Christian handled everything. He would always be up front with everything. The day of the closing was very easy and the people were so friendly. Would recommend them to anyone.
– Guenn B. (July 19, 2021)
Very impressed with Joshua Christian; heck of a nice guy. He's very knowledgeable of the market and always quick to respond to text or calls; plus, he takes the time to update you on a regular basis of how things are progressing. HIGHLY RECOMMEND Joshua and National Land Realty.
– Dennis T. (June 14, 2021)
My wife and I realized our dream home would not be possible due to health issues about eight years ago and listed the property for sale. Following many unsuccessful listings, we met Joshua Christian through electronic connections and we are thrilled with the simplicity and ease of listing and closing the sale of this property, even though we have never met. Joshua was persistent, professional, and dedicated to fulfilling our wants and needs. We are extremely satisfied and pleased with the blessing of dealing with Joshua as we received more than our asking price!
– David B. (April 20, 2021)
Working with Realtor, Joshua Christian, was a delight. He was very accommodating, quick to communicate, and he helped the sale process along by being diligent and present at every turn. He had more people walking the our property in a few months than we previously had in several years combined! I've already referred friends to Joshua.

I highly recommend!

– Gail F. (January 11, 2021)
– James M. (July 08, 2020)
I recommend Joshua Christian. He is hardworking, very helpful and easy to talk to.
– Jason P. (July 08, 2020)
My wife and I started looking for property in Tennessee 6 months ago. I spoke with Joshua Christian at National Land Realty about a piece of property but unfortunately the land his agency listed was not in the cards for us. Joshua then took about 30 minutes on the phone with me to determine what we were looking for and what our situation was. He explained what he would do as a land broker to represent our interests. He offered his services if we located a property. We ultimately found a piece of property while visiting Tennessee but after speaking with the listing agent and knowing we were only in the area for a few days we reached out to Joshua. I can attest without a doubt, having Joshua as our representative dealing with the listing agent was essential in the process being a success from start to finish. In less than two months of us finding the property, making an offer, obtaining financing and completing the title process we just closed on the property and now have our little bit of paradise. We were able to complete the entire process from our current home in Florida because we trusted Joshua to represent our interests and that trust was not misplaced. There are many more details I could mention to illustrate the attention Joshua gave our purchase but I'm sure I would still forget some. Even after the deal closed Joshua offered assistance with preparing our property before we move there. If you are looking for your dream property and you need a real estate company or land broker to represent your interests, I definitely recommend Joshua and National Land Realty.
– George M. (July 08, 2020)
I LOVE working with Josh! We all want our customers to feel comfortable and in good hands during such a potentially crazy time. Josh has that touch! I would definitely recommend!
– Jenye Y. (March 04, 2020)
This was our first experience in purchasing raw land and it would not have been as enjoyable or enlightening without Mr. Joshua Christian at National Land Realty. He is very knowledgeable about various forms of land and does his research so that when you visit parcels, he knows all of the property's details and how it may or may not suite you as potential owners. Listening to what you are looking for, conveying the process in a clear manner, and working diligently while maintaining high standards of integrity are some of Mr. Joshua Christian's strengths as a land realtor. He specializes in raw land with skills in topography, soil maps, surveyor details, etc. It is clear that his main goal is working closely with you to find the tract that fits your needs and future plans. He offers his services, connections, and resources after closing to ensure that your continued experience with land grows into a positive future.
– Alec & Andrea H. (February 14, 2020)
Joshua Christian helped us buy our house and we could not have asked for a better experience. He went above and beyond by driving 1 hour each way to show us properties. His knowledge, advice, and patience were refreshing. I would highly recommend Josh for any real estate transaction.
– Mitch A. (August 18, 2019)
If you are looking to purchase a large parcel of timber or recreational property, these are the folks to contact. Josh Christian is a professional, detailed Agent.
– Scott F. (June 24, 2019)
Land by State
Land Professionals by State